Our True Blue Crew is passionate about giving our guests an experience they can't get anywhere else. A warm welcome with a friendly smile. Delicious meals cooked only after they're ordered. Handcrafted desserts made with Culver's signature Fresh Frozen Custard. A sparkling clean restaurant. And last but not least, our heartfelt thanks and an invitation to come back and see us again.
This has always been Culver's recipe for success. And regardless of experience level, everyone on the True Blue Crew plays a role in delivering a real "Welcome to Delicious" experience. Every time, for every guest.
Just as we want every guest who chooses Culver's to leave happy, we also make it our mission to provide every team member who chooses Culver's an opportunity to achieve personal, professional and financial growth. We have a long history of promoting from within. In fact, many Culver's franchise partners began as Culver's crew members.
Crew Member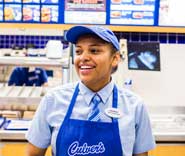 We're looking for friendly, energetic people to wear a Culver's apron as proudly as they would a team jersey. If that's you, bring your smile, your positive attitude and a willingness to learn and we'll bring the rest, including the training you need to feel comfortable meeting Culver's high standards of hospitality and food quality.
Porter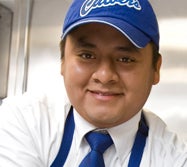 Clean, comfortable restaurants are a hallmark of Culver's, and while everyone plays a role, our porters are ultimately responsible for keeping our restaurants in tip-top condition. Porters maintain the interior and exterior of the restaurant, and are also in charge of scheduled maintenance on all restaurant equipment. Of all the positions at Culver's, the porter works most independently but is critical to providing a great guest experience.
Manager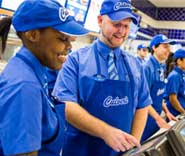 Crew members who are positive and effective role models and lead by example in appearance, attitude and skill set are great candidates for a range of leadership roles, from crew chief to assistant manager.
So are restaurant professionals from outside the Culver's organization who are looking for a better fit with their values and career goals. Culver's managers work with the entire True Blue Crew to keep the restaurant running smoothly and ensure our guests are well taken care of with delicious food and genuine hospitality.
General Manager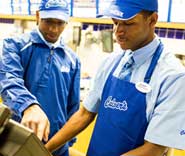 Leading by example, a Culver's general manager helps to ensure the restaurant's operational and financial success. That means cultivating a cohesive team that consistently delivers on our "Welcome to Delicious" promise, maintaining a connection to the community that fosters guest loyalty and builds sales, and controlling costs without ever sacrificing quality.
Culver's top performing general managers are often just a step away from ownership. With the support of an existing franchisee who's looking to expand, our Franchise Mentoring Program offers an opportunity for strong leaders to achieve partial ownership after one year of experience as a general manager.