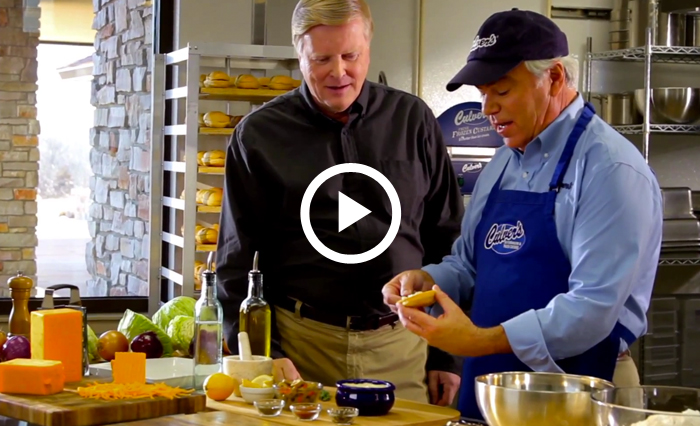 "Hand-Battered Perfection"
Culver's North Atlantic Cod is caught north of the Arctic Circle. Hand battered and faithfully prepared from a generations-old Culver family recipe, here's why you won't find a better-tasting fish sandwich or dinner anywhere else.
"Our Signature Combination"
Hardwood-smoked, center-cut bacon meets chocolaty thick Fresh Frozen Custard, here's why Culver's Bacon Deluxe and a Chocolate Shake are a match made in heaven.
"Naturally Tender"
Plump, juicy and 100% natural, our Chicken Tenders come from chickens certified humanely raised on a high quality diet of soy and grain without antibiotics.
"100% Midwest Raised"
100% Midwest-raised beef seared after your order and served on a lightly buttered toasted bun—that's all there is to it! Taste the care and quality that goes into every Culver's ButterBurger.
"Family Farm Fresh"
Culver's Fresh Frozen Custard is made in small batches, throughout the day right in our restaurants, using real Wisconsin dairy produced by local family farms. If you've never tried our Fresh Frozen Custard, we'll bet the farm you'll love it.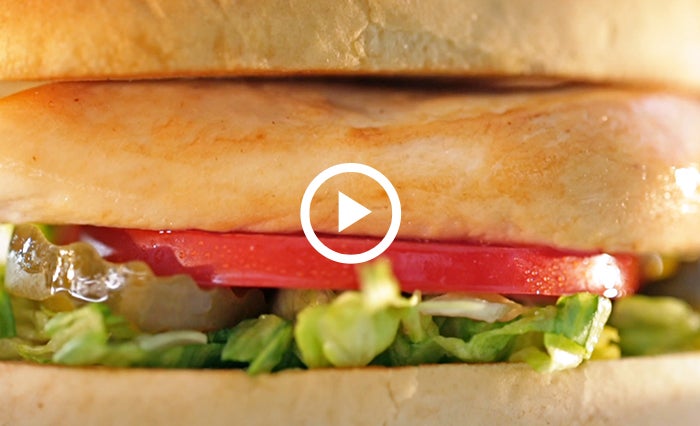 "Raised Right Tastes Right"
Craig has always said, "If we're going to have chicken on the menu at Culver's ours had better be the best." That's why Culver's chicken in certified humanely raised without antibiotics. Join Craig on a farm Down South and find just out how good Culver's chicken truly is.
"Creamiest Combination"
Here's why our Concrete Mixers are the creamiest way to eat a Reese's®. Culver's Fresh Frozen Custard and Reese's Peanut Butter Cup, now there's a real treat.
"Real Wisconsin Cheese"
Feast your eyes on Culver's Three Cheese ButterBurger (one of Culver's Daily Feature menu items), prepared to order using fresh, never-frozen, Midwest beef topped with real Wisconsin cheddar, Swiss and American. It's a fitting tribute to Wisconsin's proud cheese-making tradition.
"Flavor of the Day"
Made in small batches right in the restaurant using real Wisconsin dairy and the choicest ingredients, Culver's Flavor of the Day is always worth the trip.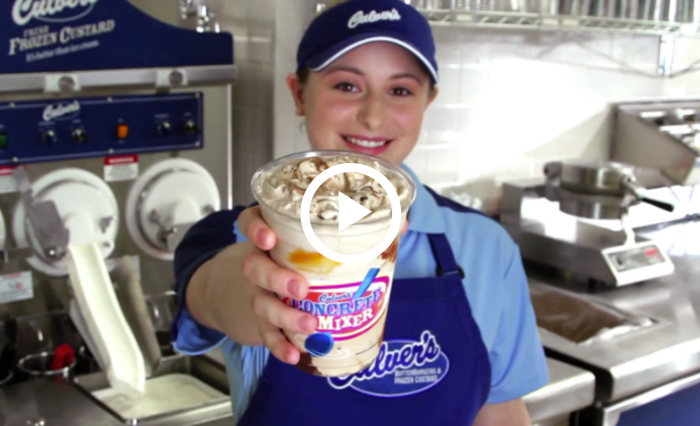 "True Blue Value"
From insisting on only the finest, freshest local ingredients to treating every guest to service with a smile, it all adds up to a little something we call: "True Blue Value." See for yourself why we do things the way we do at Culver's.