Culver's commitment to people begins at home. We hire the best team members and teach them responsibility, leadership, teamwork and skills they can use in whatever career path they follow. To show our appreciation for their hard work and dedication, we have always believed in doing our part to help them grow as individuals through education.
One great way to show we care about the future of our team members is by offering scholarships through Culver's VIP Foundation, Inc.,—a tax-exempt, not-for-profit entity named for Culver's Very Important Partners (VIP). Through the generosity of these franchise partners, supplier partners and friends of Culver's—and the passion of Culver's co-founder and VIP Foundation Scholarship Fund Executive Director, Lea Culver—we have been able to help team members take positive steps toward tomorrow for nearly twenty years.
Culver's VIP Scholarship Program began with a single $500 scholarship to one team member in 1993. It has since grown to recognize hundreds of team members' commitment to excellence and academic achievement, supporting them financially as they work toward dreams of earning college or technical school degrees. In 2014, we awarded $317,000 in scholarships to 254 team members from 168 restaurants in 14 states.
Going forward, we will continue to grow Culver's VIP Foundation, Inc., with an endowment that ensures these dreams of reaching educational goals live on.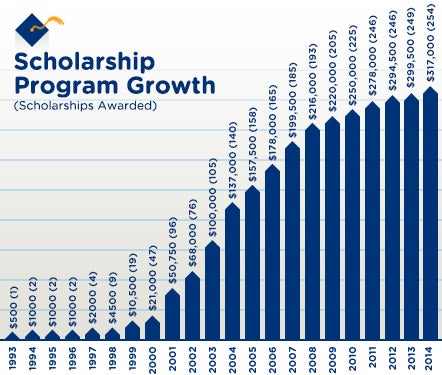 Culver's VIP Scholarship Program has awarded over $2.8 million in scholarships to more than 2,600 team members since 1993.
2015 Culver's VIP Scholarship Review Team
We graciously thank the following partners for their dedication to higher education and the time they spent evaluating applications.
Dan Baker Freshway Foods
Bill Buranich Sargento
Todd Burns Northern Illinois University
Tim Craft We Energies
Michael Drew PepsiCO Foodservice
Sara Drolet Cargill
Lori Dunn Strauss Brands
Paul Dybdahl Dybdahl's Classic Kitchens
Donna Faulkner Foundation for Madison Public Schools
Dave Florin Hiebing
Nancy Francisco-Welke University of Wisconsin Foundation
Jim Fuller Econoprint
Ted Galloway Classic Mix Partners
Lindsey Giese Juarez River Arts Inc.
Michael Glick G&R Foods
Tricia Gulmen Lily's Fund
Mike Hageman J&B Group
Jack Hart Madison College
Zack Henderson Colorado Premium
Bob Hubert Ventura Foods
Wade Huseth Baker Tilly Virchow Krause, LLP
Jeff and Paula Igel Fox Valley Technical College
Adam Jobe Valley Meats
David Jordan DelaGet
Walter Kirchhoff Specialized Marketing of Wisconsin
Steve Kopp SGA
Brigitte Korsnes Nordic Group, Inc.
George Lochhead Lochhead Manufacturing Company
Marc Lovicott University of Wisconsin - Madison Police Department
Patrice Luer Sauk Prairie Healthcare Foundation
Roxi Maier Bank of Prairie du Sac
Mike Marcucci Alpha Baking
Marty Masterson The Masterson Company
Jerry Meador Golden County Foods, Inc.
Bryan Mowry Wisconsin Restaurant Association-Education Foundation
Jeff Ochsankehl Sauk Prairie Middle School
Sheila Palinkas LMS Development
Mike Pardini VF Licensed Sports Group
Mike Petraitis Kerry Ingredients and Flavours
Todd Pieper American Family Insurance
Jeffrey Sackett Ecolab
Tom Selig Bimbo Bakeries USA
Becky Steinhoff Goodman Center
Jay Torke Torke Coffee
Andrew Vanee Vanee Foods
Dan Vega Maglio
Justin Visser Gordon Food Service
Nick Warner Franklin Elementary School
Ann Westrich Wisconsin Technical College System
Mark Wright Springer Mountain Farms
John Zinck Land O'Lakes Foodservice