Culver's commitment to using only the highest quality ingredients is owed to Craig's father and Culver's co-founder George Culver whose words still ring true today: "Never cheapen the product." Since 1984, Culver's has lived by that mantra, sourcing the best ingredients and preparing every item fresh to order for each of our guests.
Fresh Beef = More Flavorful Beef
In the early days, Culver's got its freshly ground beef daily from the local meat market just down the street. "We'd just figure how much we needed to get us through the day then pick it up ourselves," recalls Craig Culver. That's where Culver's ButterBurgers' legendary taste originated.
Today Culver's continues to serve 100% Midwest beef, delivered to our restaurants fresh, never frozen. We use just three prime cuts of beef—no trimmings, no fillers, no fooling.
"It's not just the quality of the beef but the choice cuts Culver's uses that pack all the flavor you experience when you bite into a ButterBurger," attests longtime Culver's beef supplier Jeff Jobe.
Jeff will also tell you that frozen beef loses moisture, and when you lose moisture you lose flavor. Here's why you won't find a better-tasting burger:
Family Dairy Freshness
Culver's Fresh Frozen Custard gets its legendary creamy decadence from the quality of fresh Wisconsin dairy from which every batch is crafted throughout the day.
"We source the very best milk, produced by Wisconsin family farms, and turn it into the world's finest Fresh Frozen Custard," says Ted Galloway, Culver's exclusive dairy supplier.
"It doesn't matter if milk prices go up, Craig doesn't tinker with Culver's Fresh Frozen Custard recipe to gain a cost advantage," explains Galloway. "That's what makes it so consistently great, day after day, from one Culver's location to the next."
Here's a little more about our Fresh Frozen Custard you may not already know:
Say "Real Wisconsin Cheese"
From natural Cheddar and Swiss to our genuine Wisconsin Cheese Curds, every slice and shred of cheese we use at Culver's is produced right here in Wisconsin.
Wisconsin's rich soils are ideal for producing the world's highest-quality milk. It is then trucked to small cheesemaking facilities throughout the state, where it's turned into the finest-tasting cheese. Like Culver's Wisconsin Cheese Curds, produced exclusively by La Grander Hillside Dairy in the small town of Stanley, WI.
"We are the dairy state," says Craig Culver. "I grew up surrounded by family dairy farms and generations of cheesemakers who've ingrained in me that a cheese is only as good as the quality of milk you get from your farmers. So I wouldn't think of getting our cheese from anywhere else."
Just feast your eyes on the melted goodness of Culver's Three Cheese ButterBurger:
Raised Right Tastes Right
Anyone who's tasted Culver's chicken knows every piece is perfectly plump and juicy, but that's not all—it's also 100% all natural. In fact, our chicken is American Humane Certified, raised free of antibiotics and growth stimulants, and fed a high-quality diet of soy and grain.
"Northeast Georgia is chicken country," boasts Sammy Franklin with Springer Mountain Farms, Culver's primary chicken producer. "We work exclusively with more than 350 family farms to produce the most healthful, tasty chicken anywhere."
Graded A by USDA inspectors and loved by guests, Culver's chicken is like no other. Our crispy golden Chicken Tenders are named for the tenderloin—the most tender part of the breast—and hand-trimmed especially for Culver's. Our Chicken Filets are cooked to order and served crispy or grilled in a sandwich or atop one of our freshly prepared salads. At Culver's, there's a delectably wholesome chicken for every craving.
A Crinkle Cut Above
French fry perfection starts with perfectly grown potatoes from the rich soils of the great Northwest. That's why we rely on our friends at Lamb Weston. For over 60 years they have cultivated relationships with only the best growers Washington State has to offer.
Our potatoes are crinkle cut for better dipping. We cook them crispy golden brown using only 100% trans-fat free canola oil—because it's the healthiest for our guests.
Served hot, they are the perfect side or snack to satisfy your salty craving.
As Craig Culver always says, "Crinkle Cut Fries are a ButterBurger's best friend." See for yourself.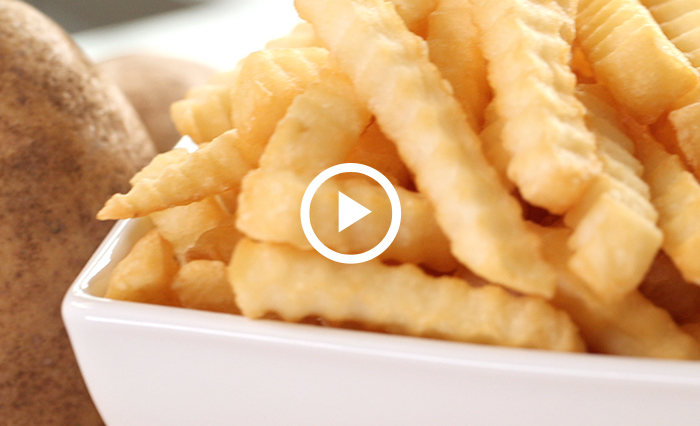 For a full list of our quality ingredients, download our Quality Ingredients information.
To learn more about Culver's nutrition: