If our hospitality experience has taught us anything, it's that the little things you do can add up to a world of difference. Therefore we're always in search of ways to minimize our impact on the environment while overdelivering on the quality, freshness and flavor of our food.
Raised Right Tastes Right
Anyone who's tasted Culver's chicken knows every piece is perfectly plump and juicy, but that's not all—it's also 100% natural. In fact, our chicken is American Humane Certified®, raised free of antibiotics and growth stimulants, and fed a high-quality diet of grain and soy.
"Northeast Georgia is chicken country," boasts long time supplier partner, Sammy Franklin, a 25-year veteran poultry producer with Springer Mountain Farms®. "We work exclusively with more than 350 family farms to produce the most healthful, tasty chicken anywhere."
Graded A by USDA inspectors and loved by guests, Culver's chicken is like no other. Our crispy golden Chicken Tenders come from the most tender part of the breast, called the tenderloin, hand-trimmed especially for Culver's. Our Chicken Filets are cooked to order and served crispy or grilled as a sandwich or atop one of our freshly prepared salads.
Even our bone-in Fresh Fried Chicken is as wholesome as it is delicious. Through partnerships with Springer Mountain Farms® and Midwest-Grown Just BARE® Chicken, we're proud to ensure antibiotic-free bone-in chicken at nearly every Culver's restaurant.
"While all Culver's Chicken Tenders and Chicken Filets are antibiotic-free, we continue to work toward antibiotic-free, bone-in chicken across all our restaurants without compromising flavor and freshness," says Donette Beattie, Culver's Vice President of Supply Chain.
For the highest quality, best-tasting chicken, head to Culver's. Here's more on what sets Culver's chicken apart from all the rest:
Sustainably Caught, Deliciously Prepared
From our North Atlantic Cod to our seasonal Northwoods Walleye, all our fish comes from certified-sustainable fisheries.
The North Atlantic Cod we serve at Culver's is caught north of the Arctic Circle in the pristine waters of the Barents Sea, where the majority of fisheries are Marine Stewardship Council certified sustainable. In this icy cold environment fish grow slowly, developing a wonderfully light and flaky texture, making them highly sought after in all markets where cod is sold.
"In Norway, where I'm from, fishing is a way of life," says Terje Korsnes, longtime supplier of Culver's North Atlantic Cod. "To ensure it remains so for generations to come, our fishery resources along the coast and in the Barents Sea are monitored and protected from overfishing and managed for long-term sustainability."
Furthermore, our Northwoods Walleye is sustainably caught in the cold, clean Canadian waters of Lake Winnipeg. This carefully managed and long established artisanal fishery is currently in the process of being evaluated and rated by the Vancouver Aquarium's Ocean Wise™ conservation program.
One taste of Culver's North Atlantic Cod or Northwoods Walleye in a dinner or sandwich and you'll agree that something so delicious is too important not to protect.
Here's more on why you won't find a better-tasting fish sandwich: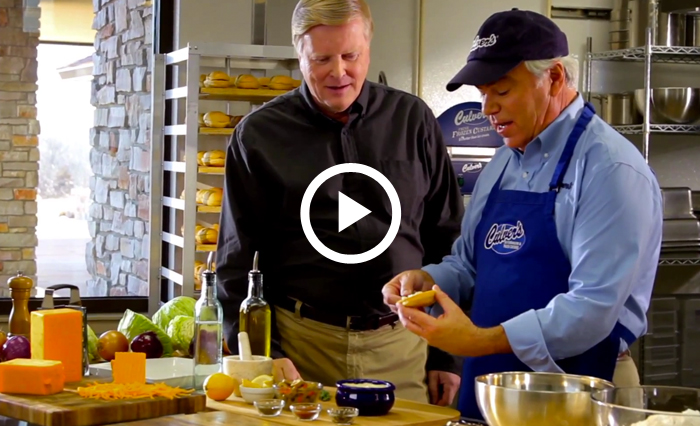 Recyclable, Compostable and Blue
Culver's packaging is vibrant, distinctive and getting "greener" all the time. Bags, napkins, spoons, wrappers, cups, you name it. We're committed to lessening its lasting effects on the environment.
That means we give careful consideration to the materials that make up our packaging, from sourcing paper that's either post-consumer recycled or Forest Stewardship Council certified to ensuring the plastics we use are recyclable. We even print our packaging using water-based ink whenever possible.
"Ultimately, it comes down to individuals, communities and organizations like Culver's making the environment a priority," says Morris Paine, Culver's partner in packaging. "By simply caring enough to recycle, or at the very least discard unwanted items appropriately, we can all help preserve the world's beauty."
Learning from Our LEED-Certification
When Craig Culver asked what it would take to build a LEED-certified Culver's in Baraboo, Wisconsin, we didn't realize it would fundamentally change the way we design our restaurants.
Working closely with the U.S. Green Building Council, we set out to evaluate operational efficiencies alongside sustainable strategies, such as supplementing electrical supply with solar panels that double as patio awnings and recycling fryer oil as fuel for a hot water heater.
The restaurant uses high-efficiency mechanical systems, and conserves more than 123,000 gallons of water per year through low-flow plumbing fixtures.
"This restaurant is like a classroom to us," says Jon Sandeman, Culver's Project Architect and LEED Project Administrator. "We're evaluating the return on investment for each of the design elements, and from that, determining which efficiency measures to roll out systemwide."
Brimming with Goodness
The elegant, complex flavors of Culver's 100% Arabica blend coffee come from the beans we've diligently selected. The Culver's blend is Rainforest Alliance certified to support sustainable growing practices across a half dozen South American countries. It also goes a long way toward maintaining fair farming wages and protecting the environment.
"People know great coffee when they taste it," says Culver's coffee roaster Jay Torke. "But what they might not realize is every time they order Culver's coffee, they're helping preserve important cultures and fragile ecosystems."
We'll sip to that.