Our Communities
For Franchisee, a Passion for People Is Key to Success
Culver's of Tucson, AZ – N 1st Ave.
With over 25 years of experience in the restaurant industry, Culver's franchisee Ed Norton knows what it takes to keep a restaurant running smoothly. "It's a passion for people," Ed explained. "You have to be able to provide the guest with an outstanding experience."
Ed believes he has found the perfect place to live out his dedication to hospitality with Culver's. He and his business partner, Kevin Hart, opened Culver's of Tucson, Arizona – N 1st Avenue in April 2013. Ed believes opening a Culver's was one of the best decisions he's ever made. "The ability to provide our guests with personal attention makes me proud," said Ed. "I saw that every time I went to a Culver's, and I wanted to be a part of that."
"Without people in our lives we wouldn't be able to grow, be successful and live life to our fullest potential."
It's not only his hospitality skills that Ed ascribes to helping him become a successful restaurant owner. Ed served four years of active duty in the army and four years in the reserves, and he feels this experience made him into an effective leader. "In the military, you are taught teamwork and dedication. It prepared me to lead through example, to provide direction to those around me and to help others become leaders in their own right."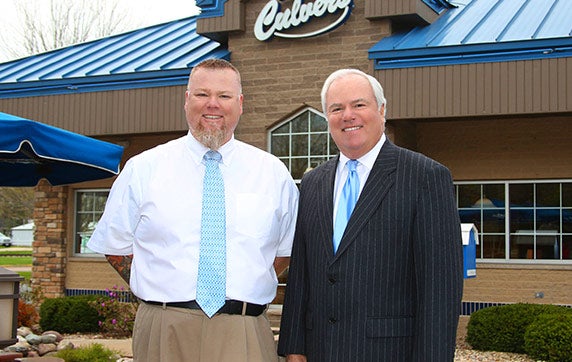 Culver's hasn't just given Ed a place to live out his passion for people, but his time at Culver's has also shown him what it's like to be on the receiving end of kindness. When Ed's wife passed away, his Culver's team was there to support him through the difficult time. "They were my 'True Blue family.' Without their support, I don't know what I would have done." Ed and his "True Blue family" are examples of what Culver's truly is, a people business.
Are you interested in working with passionate people like Ed? Check out available job opportunities on our Careers page.