Our Communities
Restaurant Feeds Firefighters During Week-Long Fire
Culver's of Port Charlotte, FL
For about one week in May, a wildfire near North Port, Florida, engulfed almost 4,000 acres of swampland. Rare for the area, firefighters traveled from all over to help put out the blaze.
Steve Buchmeier, owner of the Culver's of Port Charlotte, FL, on Kings Hwy, said conditions for the fire were perfect; little rain and very windy. For his restaurant, these conditions were less than ideal.
While Steve's home was closer to the fire, the restaurant was still within three quarters of a mile from the destruction. The dense smoke nearby even caused local authorities to close Interstate 75, which led to a decrease in restaurant traffic. That didn't stop a few guests from coming, though.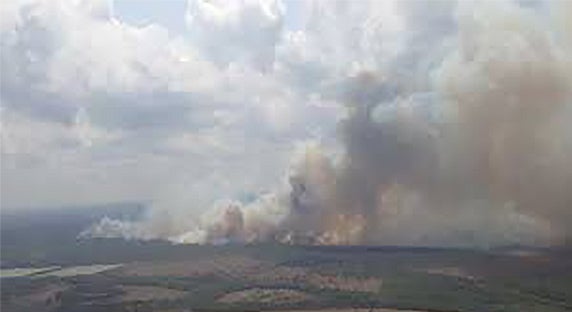 Firefighters working on the blaze stopped by the Port Charlotte restaurant looking for lunch and a break from the heat. As a way to thank the firefighters for their work, Steve decided to buy their lunch and some Fresh Frozen Custard.
"These men and women were out there, 100 degrees on the thermometer at the restaurant, and they're fighting a fire trying to save our natural resources and homes and businesses," Steve explained. "It was our way of saying thank you for looking out for us."
"It was our way of saying thank you for looking out for us." - Steve
For the firefighters, this was their first time experiencing Culver's. They liked it enough that they came back for lunch the next day. This led Steve to set up a ButterBurger and Sundae buffet right outside of the restaurant. Throughout the week, Steve said his restaurant donated more than 150 meals total.
"There were a lot of smiles after those first few days because they just really enjoyed what we do," Steve recalled.
For the Port Charlotte restaurant, though, this was just a simple act of supporting the community through the Culver's mission: That every guest who chooses Culver's leaves happy. According to Steve, "That was certainly the case with these firefighters."
Has your local Culver's done something amazing? Let us know on Facebook or share a photo on Instagram and Twitter using #culvers.