Culver's Cravings
Flavor of the Day
Announcing 4 New Frozen Custard Flavors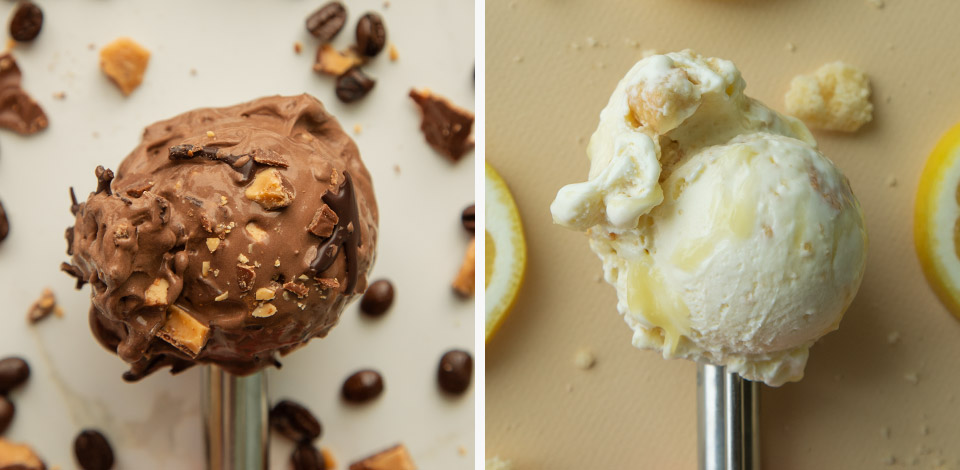 Summer has arrived, and what's a better way to celebrate the warmer months than by enjoying some cool, creamy Fresh Frozen Custard? We're making your summer even better by debuting four new Flavors of the Day, starting June 10. These flavors, along with last year's new flavors, bring our Flavor of the Day lineup to over 50 flavors.
Learn about each of the flavors from Quinn Adkins, our director of menu development, and plan to visit your local Culver's to try them when they debut.
Creamy Lemon Crumble – June 10
To make this flavor, we take our specially blended Lemon Fresh Frozen Custard, swirl in crushed sugar cookies and top with a lemon drizzle. It's a delicious combination of tangy and sweet.
"It tastes like summer."
This was one of the trickiest flavors to create — getting the combination of tart lemon and creamy dairy just right was challenging. In fact, Quinn and his team have been working on perfecting this flavor for three years, and they're proud of the result. "I'm most excited for guests to try Creamy Lemon Crumble," he said. "It tastes like summer."
Midnight Toffee – July 10
Coffee connoisseurs will love this espresso-infused Dark Chocolate Fresh Frozen Custard topped with toffee bits and novelty chocolate. After seeing how much guests loved last year's new flavor Dark Chocolate Decadence, Quinn wanted to experiment with new ways to feature a dark chocolate flavor. He landed on combining it with coffee and was meticulous about refining the coffee flavor until it was perfect. We'd say he got Midnight Toffee just right.
Dulce de Leche Cheesecake – Aug. 10
Dulce de Leche (a South American caramel made by slowly cooking sweetened milk) Fresh Frozen Custard is layered with gourmet cheesecake pieces and topped with a drizzle of salted caramel. Dulce de Leche Cheesecake is an example of what is so special about Culver's Flavor of the Day program. "The Flavor of the Day is our chance to demonstrate to guests how exceptional Fresh Frozen Custard can be," explained Quinn. "It puts a new spin on flavors they may have tried before — in this case caramel and cheesecake — and shows them just how delicious they can be when paired with Frozen Custard."
Devil's Food Cake – Sept. 10
This flavor is a chocolate lover's dream with Dark Chocolate Fresh Frozen Custard swirled with devil's food cake and novelty chocolate. The inspiration behind the flavor actually came from Craig Culver, who told Quinn on his first day working at Culver's, that he's always wanted to see a menu item inspired by custard and chocolate cake. "I've never forgotten that," said Quinn, and we're glad he didn't.
"We tried over a dozen kinds of cake before landing on the one."
Getting this flavor right wasn't easy though. While the Dark Chocolate Fresh Frozen Custard was already created, finding the right cake to pair with it was no easy task. "It had to be rich, but not too sweet, since the Frozen Custard is already sweet, and it had to be the right texture," explained Quinn. "We tried over a dozen kinds of cake before landing on the one you'll find in the Devil's Food Cake flavor."
If you're not already craving a scoop or two of these flavors, you will be when you learn that, like all of the Fresh Frozen Custard served at Culver's, they will be made fresh throughout the day.
Visit your local Culver's restaurant on the 10th of each month, June through September, to try each of the new Flavors of the Day. You can also sign up for MyCulver's to see when these new flavors will be served up throughout each month for you to enjoy. Let us know which flavor is your favorite on Facebook, Instagram or Twitter by using #culvers.