Culver's Cravings
Small Surprises Are Often the Most Meaningful
Surprises can be some of life's greatest joys.
Those special moments when catching someone off guard puts the biggest smile on their face. The excitement that radiates throughout the room is nothing short of magical. The neat thing is, surprises don't always need to be grand gestures that cost a lot. They can be something as simple as a sweet note left with a cup of coffee, planting fresh flowers in someone's yard or even a Culver's ButterBurger®.
We set out to surprise three different groups of fans across the U.S. with our True Blue Crew and ButterBurgers in tow. We like to call this a ButterBurger Blindside. See how it went down as we surprised some unknowing folks with something special!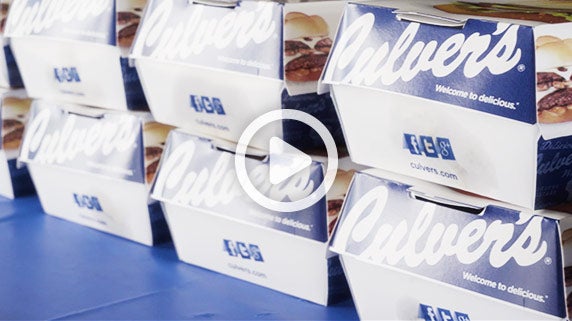 Our first stop on the trip was to sunny Arizona to meet Camille, a blogger who focuses on helping couples build strong, lasting relationships. She was looking to surprise a group of parents with a little alone time to reconnect over a delicious meal. We met up at a local children's museum where the parents and kids were gathered together for a coloring activity. Moments later, we walked through the doors with trays full of ButterBurgers and a handful of helpful babysitters. While the parents got the chance to relax and chat over ButterBurgers, the sitters took the kids into the museum to explore and enjoy the exhibits. It turned into a perfect date night they didn't even have to plan.
"I've invited a bunch of friends to come enjoy dinner and enjoy a night off." - Camille
Next, we were off to Michigan to coordinate a surprise with Ashleigh, a mother of three who serves on her local parent-teacher committee. Ashleigh asked us to help her surprise the teachers at her children's school after a late school year and an early start for the coming year left them with a shortened summer break. While the teachers attended a pep rally at the school, we rallied our own troops and set up the teachers' lounge with ButterBurgers and tasty sides. The principal brought them in for a special meeting that turned out to be a surprise they wouldn't forget.
"I didn't even tell my kids because I knew they would tell their teachers." - Ashleigh
Finally, we swung over to Missouri to meet Angela, a small business owner who wanted to surprise her employees. They worked so hard all summer long to help get her business off the ground, and she wanted a special way to say thanks. We helped Angela set up the surprise, with her employees convinced they were headed to an end-of-the-summer pool party. Little did they know that once they went inside the clubhouse, there'd be an entire table of ButterBurgers waiting for them.
"It's a great way for me to tell my team thank you for all the hard work they have done for us this summer." - Angela
The utter joy and delight on each person's face was so worth it. It just goes to show that surprises can happen anytime, anywhere, and they can be as simple as a tasty treat that shows how much you care.
Have you ever surprised someone in your life with a ButterBurger? Tell us about it on Facebook or share a photo with us on Instagram or Twitter using #culvers.