Thank You Farmers Project
Arizona FFA Chapter Succeeds With Donations From Local Culver's
"It puts smiles on their faces." That's what Rob Davis, advisor to the Arizona Agribusiness and Equine Center High School FFA Chapter in Prescott Valley, Arizona, said when asked what Culver's support means to his FFA members. "Culver's is our chapter's biggest contributor, and our students look forward to their support."
Culver's of Prescott Valley, Arizona has been fundraising for the restaurant the past two years, during which time they've donated a total of eight FFA blue jackets and nearly $4,700. It's not just the restaurant that donates to the chapter—it's the restaurant's guests, too. In addition to hosting Share Night fundraisers with the chapter, the restaurant began a "Give $1, Get $1" fundraiser, in which guests donated $1 to the FFA chapter. In return, the restaurant gave them a $1 off coupon. In just one week, guests had donated $1,000.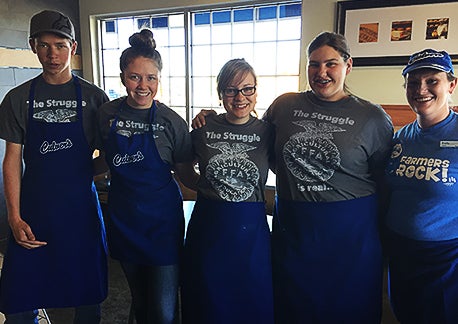 The FFA chapter puts the donated funds to good use, like covering registration fees and travel expenses for students attending leadership conferences and events. The chapter participates in a wide variety of activities, from community service projects to career development events to even teaching elementary school students about agriculture. "It's with the help of Culver's fundraising efforts that we are able to travel, compete and offer our students these opportunities," explained Rob. "My students will look their best and perform their best knowing they have the support of businesses like Culver's."
Culver's of Prescott Valley's owners, Caleb and Emily Meier, have been touched by the heartwarming responses from FFA members and parents. After presenting a donation check at the banquet, the chapter even made Caleb and Emily honorary members. "We always leave the banquet with our hearts feeling happy," said Emily. "We regularly have people stop in to our restaurant and thank us again and again for our support."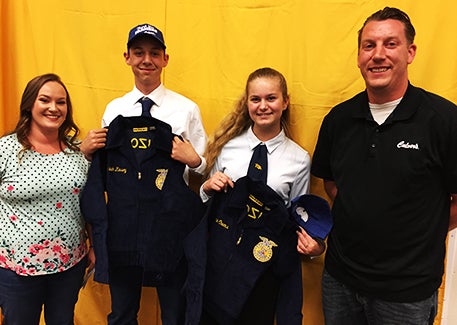 "Our chapter's philosophy is to give back to our community and make it a better place for everyone to live in," said Rob. It's clear that Culver's of Prescott Valley and its guests feel the same way.
Culver's FFA fundraising is part of the Thank You Farmers Project. Learn more about how Culver's restaurants and guests are supporting agricultural education.