Thank You Farmers Project
Delta FFA Chapter Benefits From Scoops of Thanks Day
Culver's Scoops of Thanks Day invites guests to donate $1 to a local agricultural organization and receive a scoop of Fresh Frozen Custard in return. The Delta High School FFA Chapter is proof that supporting your local community on that day can truly make a difference.
In 2016, the FFA chapter received a $900 donation from Culver's of Muncie, Indiana's Scoops of Thanks Day fundraiser. "The students were shocked," said Nicole Terry, the chapter's advisor. "I don't think they realized we were going to get that much support."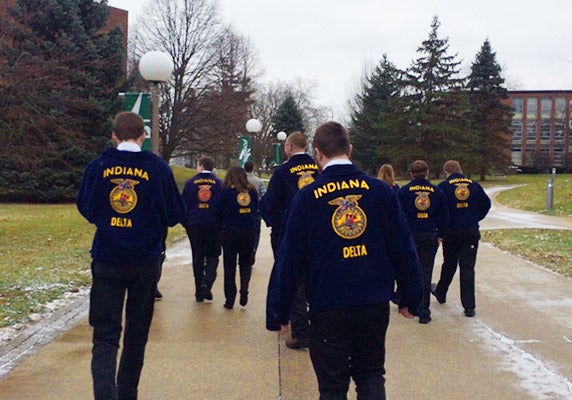 With the donation from the fundraiser, the chapter purchased new engines to help them prepare for a career development event in which they competed with other FFA chapters to show their knowledge of small engines. The chapter also regularly participates in soil judging and leadership events. When the students aren't learning, they're teaching others about agriculture, hosting a petting zoo and educating children about agriculture at the Delaware County Farm Festival.
"We teach students how the skills they develop can help them in future careers."
FFA is not just about agricultural education, however. "Students not only learn skills but gain lifelong friends," said Nicole. "I think they learn that sometimes other people are your best resource to get the job done."
"In our FFA chapter, we are a family."
Culver's and the Muncie community are proud to support an organization like FFA that benefits local students. "It's important to support FFA because by educating young people, they are raising future farmers and leaders," said Nick Bird, director of marketing for Culver's of Muncie. "Muncie is a farming community, so our guests are very supportive of FFA."
Learn more about Culver's support of FFA on our Thank You Farmers Project page or show your support by donating to the National FFA Organization.