Thank You Farmers Project
Restaurants Celebrate National Beef and Dairy Months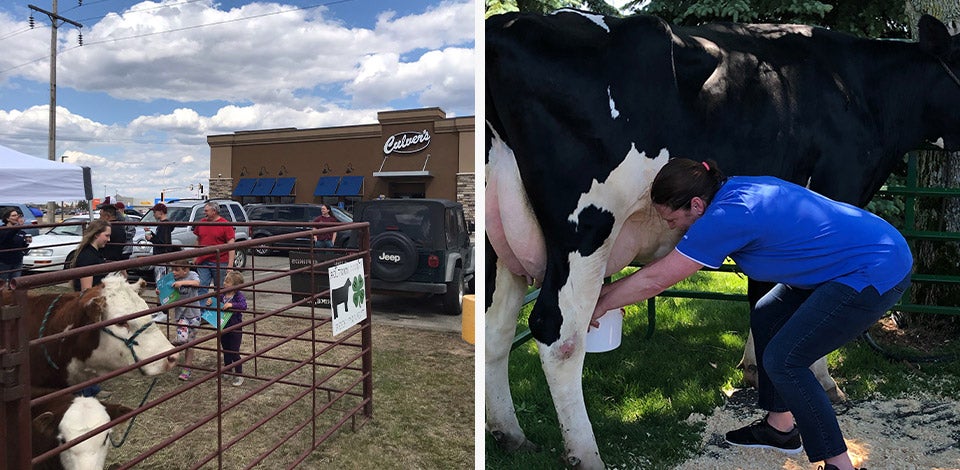 We recognize the importance of agriculture every day through our Thank You Farmers Project, but sometimes it's worth a little extra celebration. Two Minnesota restaurants have taken celebrating farming to the next level by hosting National Beef Month and National Dairy Month events.
"My family has an appreciation for agriculture, and we think it's important to let our guests know where their food comes from," said the restaurants' owner-operator David Liedl. Leidl's family began holding agriculture-themed events at their restaurants to share with guests. Doing so has allowed the restaurants to develop relationships with local farmers and agricultural associations and connect with their local communities, which rely on farming.
"Guests are surprised to see cows at the restaurant."
Culver's of Baxter, Minnesota, has been celebrating National Dairy Month in June for the past 10 years. Local celebrities compete in a milking contest to see who can milk the most in a minute. The winner brings home a trophy and bragging rights for a year.
"Some participants get really into the milking contest, even coming back to participate to see if they can beat how they did in a past year," explained David.
A Fresh Frozen Custard eating contest challenges guests to eat a dish as quickly as they can — without using their hands. Some guests finish in as little as 30 seconds! Visits from FFA members and local dairy ambassadors round out the Dairy Month events.
A hundred miles away, Culver's of Bemidji, Minnesota, and the local FFA chapter host a meet and greet with cows at the restaurant each May for National Beef Month. Guests are invited to participate in beef-themed trivia and learn more about beef farming.
"Guests are often surprised to see cows at the restaurant and learn how big they are," said David.
Both restaurants tie in fundraisers benefiting FFA throughout the month, so guests can get in on the celebration even if they can't attend the events.
"We appreciate the journey our food has taken."
"We appreciate the journey our food has taken," said David. "We hope these events introduce our guests to the people behind their food and foster an appreciation for the hard work they've done."
To learn more about how Culver's supports FFA and shows its appreciation for agriculture, visit the Thank You Farmers Project page.