Franchise Opportunities Culver's Owner-Operators Hold The Key To Their Own Success
Culver's owner-operators have one thing in common, and that's a commitment to our founding principles of hospitality, quality, freshness and service to the community. Our owner-operators are critical to Culver's success because they're engaged in their business every day, working side-by-side with their team, leading by example.
Over the years, these shared values have led to thriving relationships between Culver's and our owner-operators. In fact, according to a survey by the Franchisee Business Review, Culver's is rated No. 1 in franchisee satisfaction by more than 4,300 franchisees in the United States and Canada. Not only that, Culver's earned the number one spot with Franchise Business Review's 2016 Top 50 Franchises list.

We're looking for leaders with the initiative and skills to take a team of people and operate a Culver's according to our high standards. You need energy and enthusiasm. You have to be willing to work hard. You have to love people and believe, as we do, that having a great heart is also good business.
In 1984, Craig Culver and his family opened the first Culver's restaurant in Sauk City, Wisconsin, serving their signature ButterBurgers® and Fresh Frozen Custard to friends and neighbors with genuine, from-the-heart hospitality. Their sole financial goal was to support their growing family.
Since then, along with our owner-operators who share the same uncompromising standards we've held from day one, Culver's has grown to over 500 restaurants in 22 states.
Culver's is leading the way in the industry and in our communities. If you are craving a restaurant business made to order for you, where your financial success is directly related to how well you and your team execute against Culver's mission that every guest who chooses Culver's leaves happy, we invite you to consider becoming a Culver's franchisee.
Complete and submit an online Franchise Inquiry form today!
Or register for an upcoming webinar or seminar to learn more.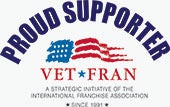 Webinars
Please click on the "Register to Attend" button below to reserve your spot for an interactive and informative presentation about how to get started in becoming a franchisee of your very own Culver's restaurant.
Register to Attend
Opportunity is knock-knock-knocking
Take it from these independent owner-operators
When the fit between Culver's and owner-operator is right, it's a recipe for success. No wonder Culver's is rated No. 1 in franchisee satisfaction among franchisees.
With Culver's, success comes in many forms. Building and controlling a financially rewarding family business. Community involvement. Providing employment opportunities to team members. How might owning and operating a Culver's franchise help you achieve your goals? Some of our current owner-operators share their thoughts.
Carissa Rose
Owner-Operator of two Culver's restaurants, Arizona
"I grew up on a dairy farm in Wisconsin, just 20 miles from Sauk City, where Culver's started. In 1999, my parents sold the family farm and we moved to Lincoln, NE, where we opened a Culver's restaurant. I began to work in the restaurant when I was 14 years old.

After college, I dabbled in sports marketing but soon realized my true career passion was Culver's. Today, I'm the owner/operator of two Culver's restaurants in Mesa, Arizona. Culver's was a big part of my life growing up and I'm happy that it's still part of my life today."
Frank and Sarah Spanopoulos
Co-Owner-Operators of two Culver's restaurants, Indiana
"In 2001, my wife Sarah and I were dining at a Culver's restaurant. At the time, I was in sales and Sarah was an engineer. We were happily working our way up the corporate ladder. But something was missing – the independence and challenges our parents enjoyed as business owners.

We decided to look into opening a Culver's restaurant and work together as a team. After our research, we learned that Culver's had a strong system and culture in place. It was the perfect fit for us. We opened our first restaurant in 2003 and our second in 2014. This decision was the best one we could have made for us and our family."
Jeremiah and April Bowe
Co-Owner-Operators of seven Culver's restaurants, Minnesota and Wisconsin
"Culver's has been a part of me for most of my life. With my parents and three siblings involved, it is truly a family business. As kids, we were given an opportunity to work at Culver's. Our family is very fortunate to own multiple locations in Wisconsin and Minnesota.
To me, the most rewarding part of being a Culver's franchisee is the ability to grow team members into general managers and partners. Equally rewarding is the opportunity to work with my family. Now that I have my own family, my hope is to provide them with a Culver's opportunity as well!"
Katie and Brian Schmitt, Kevin and Sally Powers
Co-Owner-Operators of three Culver's restaurants, Michigan
"For us, Culver's is truly a family business. My brother Kevin and I, each with our own family, work in our restaurants, in addition to helping each other as co-owners. We appreciate the opportunity to partner in a business that allows us to operate on our own values, like quality, hospitality and service. We're happy to be a part of the exciting expansion into Michigan, and we feel fortunate to have a business model that offers us prospects for future growth."
Paul and Lynn Clause
Co-Owner-Operators of three Culver's restaurants, Kansas and Missouri
"We have been in the Culver's system since 2003. When we decided to go into business for ourselves, we thoroughly researched a number of different concepts before choosing Culver's. Having no previous restaurant experience, the help and support that Culver's provided was invaluable.
The journey has not always been easy, but one that we wouldn't trade for anything. We've had the opportunity to mentor and develop our team members, build respected businesses within the communities we serve, and secure our financial future by partnering with a great brand. In short, it's the best decision we ever made."



Tim TeGrootenhuis
Owner-Operator of one Culver's restaurant, Iowa
"In 2012, my wife, Sherri and I decided to follow our dream and bring Culver's to the city of Pella, IA.

We have been blessed since we opened. Pella accepted our restaurant with open arms. We in turn feel privileged to give back to our community.

We have partnered with our school systems with the Culver's "Kids of Character" program. The program acknowledges and rewards children for acting as "kids of character." The children come into our restaurant with their certificates with pride and joy on their face for being recognized. This program, along with others, helps me realize that we made the right decision to join the Culver's family."