Our Latest Work
The mission at every Culver's is to make sure our handcrafted meals and hometown hospitality have all guests leaving happy. Here's how we share that with the world.
---
"Better-Tasting Chicken"
Better chicken starts on the farm. Watch as Craig Culver and his daughter Brittany tour a chicken farm and learn what makes Culver's chicken more tender and flavorful.
---
"More Choices, More Smiles"
We serve all of our food with a smile on our faces, knowing it's going to put one on yours – no matter what you're craving. That's why we make everyone's favorites fresh, so that we can help make their day.
---
"With the People We Love"
It all comes back to taking care of each other. That's why we love making fresh meals and seeing the moments that come with them. Whenever you need a bit of delight served with a smile, we'll be ready.
---
"True Blue Thank You"
When we say thank you, we really mean it. And no group is more deserving of a thanks than the Culver's True Blue Crew, who genuinely care and allow us to be a bright spot in our guests' day.
---
"Here For You"
To support our communities and nourish guests, Culver's restaurants will continue to offer drive-thru service. We are also taking extra precautions to ensure proper food safety, so you can continue to enjoy a meal cooked just for you.
---
"Hand Battered Best"
Hand-battered fish cooked to golden brown perfection has been a supper club staple for as long as we can remember. That tradition lives on in every crispy, flaky North Atlantic Cod filet we prepare fresh here at Culver's.
---
"Mom Approved"
Craig Culver, his daughter and his grandson share why our Chicken Tenders are loved by families everywhere. Hint: It's got a lot to do with using only the most prized, tender pieces of all-white meat.
---
"Tasting is Believing"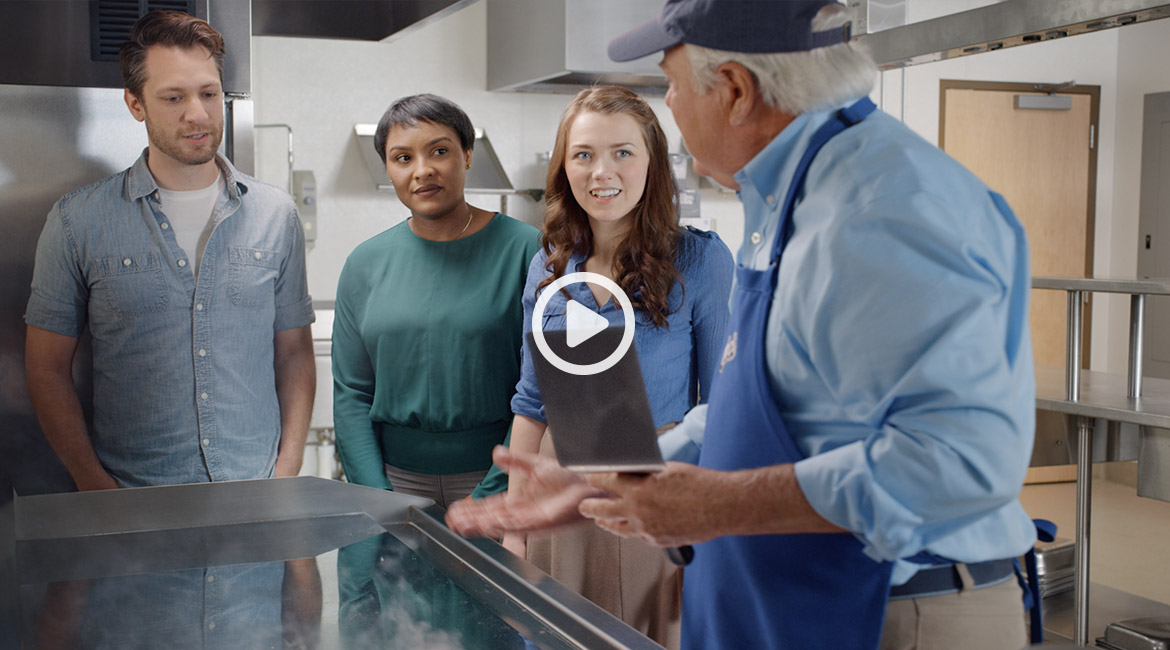 There's no doubt about it. Fresh beef is what sets our burgers apart. Pressed and seared after you order and topped with a lightly buttered bun, there's nothing like a ButterBurger® prepared just for you.
---
"Behind Every ButterBurger®"
We believe every Culver's guest deserves to enjoy delicious, honest food made just for them. That's why there are no shortcuts at Culver's, only cooked-to-order meals served with a smile.
---
---
"Lo Que Más Amo"
Cooked-to-order ButterBurgers, made-daily Fresh Frozen Custard and smiling faces—it's what you can always expect at Culver's. There's no place better to enjoy time together with friends and family over a wholesome, great-tasting meal. Welcome to Delicious!
---
"Small Batch Frozen Custard"
Did you know we make our Fresh Frozen Custard right in the restaurant throughout the day? Watch as we slow-churn a batch of this cool, creamy classic and see why it's such a guest favorite.
---
"Grower to Guest"
Culver's got its start in rural Sauk City, Wisconsin. It's a town surrounded by family farms, farms that have instilled a great respect for those who grow and produce our food. It's why we cook every ButterBurger using fresh, never frozen beef and use only farm-fresh dairy in our Fresh Frozen Custard. Stop into Culver's and see the difference quality ingredients can make.
---
"Big-Hearted Surprise"
As a tireless champion for his community, Michael Johnson, a man with a big heart for children, has gone above and beyond in helping young people succeed. We dropped by Madison, Wisconsin, to surprise him with his very own celebration—and brought plenty of Reese's® Concrete Mixers® along for the ride.
---
"A Hero's Welcome"
Nick Seefeld, a decorated veteran, not only serves his community as a police sergeant and volunteer firefighter, but also makes it his duty to honor fellow service members in his small town and beyond. We made the trip to Aledo, Illinois, and set up a surprise celebration in his honor, with plenty of Concrete Mixers® made with OREO® to go around.
---
"Unbridled Thanks"
Combining a lifelong love of horses with a need to help others, Donna Wiebelhaus founded a therapeutic riding center where families of special-needs children enjoy access to equine-assisted therapy free of charge. We headed on down to Liberty, Texas, to surprise her, and brought along Concrete Mixers® made with OREO® to share.
---
"Wild-Caught North Atlantic Cod"
Wild-caught just for you from the icy cold water of the Barents Sea, Culver's North Atlantic Cod is hand-battered the old fashioned way and cooked to crispy golden perfection.
---
"Para las familias"
Born in Guadalajara, Margo Valenzuela worked her way up from an assistant manager to owner-operator of her own Culver's. A believer in genuine hometown hospitality, Margo treats everyone who visits like family. (English subtitles available.)
---
"Surprise & Delight"
Watch as we hit the streets of Nashville to surprise people with our smooth and creamy Fresh Frozen Custard. Made from the finest dairy in small batches throughout the day, Culver's Fresh Frozen Custard is irresistibly delicious.
---
"Family Farm Fresh"
Culver's Fresh Frozen Custard is made in small batches, throughout the day right in our restaurants, using real Wisconsin dairy produced by local family farms. If you've never tried our Fresh Frozen Custard, we'll bet the farm you'll love it.
---
"Our Signature Combination"
Hardwood-smoked, center-cut bacon meets chocolaty thick Fresh Frozen Custard, here's why Culver's Bacon Deluxe and a Chocolate Shake are a match made in heaven.
---
"Creamiest Combination"
Here's why our Concrete Mixers® are the creamiest way to eat a Reese's®. Culver's Fresh Frozen Custard and Reese's Peanut Butter Cup, now there's a real treat.
---
"Naturally Tender"
Plump, juicy and 100% natural, our Chicken Tenders come from chickens certified humanely raised on a high quality diet of soy and grain without antibiotics.
---
"Flavor of the Day"
Made in small batches right in the restaurant using real Wisconsin dairy and the choicest ingredients, Culver's Flavor of the Day is always worth the trip.
---
"Real Wisconsin Cheese"
Feast your eyes on Culver's Three Cheese ButterBurger (one of Culver's Daily Feature menu items), prepared to order using fresh, never frozen beef topped with real Wisconsin cheddar, Swiss and American. It's a fitting tribute to Wisconsin's proud cheese-making tradition.
---
"True Blue Value"
From insisting on only the finest, freshest local ingredients to treating every guest to service with a smile, it all adds up to a little something we call: "True Blue Value." See for yourself why we do things the way we do at Culver's.