Culver's Foundation
Education is our future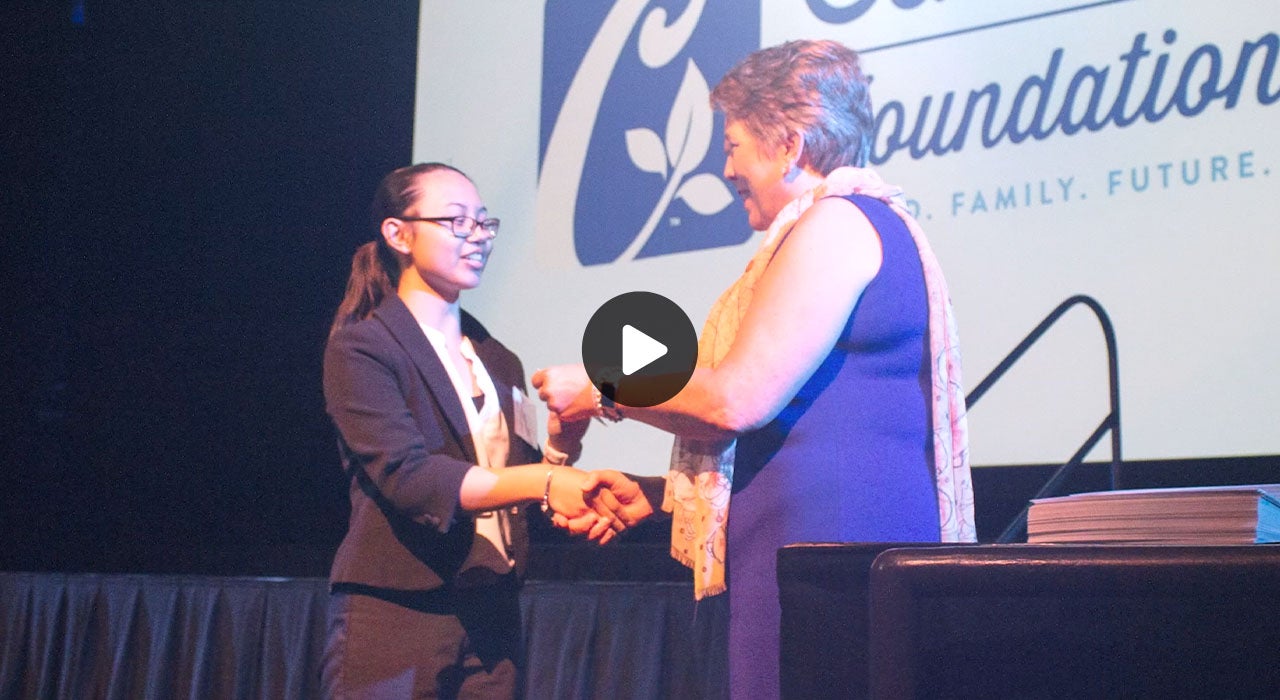 Audio
Visual

Reflective music plays.

Leaves grow from a white C in a blue square logo. Text appears beside it.

ON SCREEN TEXT: Culver's

Foundation

FOOD. FAMILY. FUTURE.

LEA, CO-FOUNDER OF CULVER'S: The first years we didn't have a lot of extra money, so it was hard to support activities taking place in our community.

An old photo shows a billboard in a rural area with text on it.

ON SCREEN TEXT: FROZEN CUSTARD BUTTER BURGERS

Culver's FAMILY

RESTAURANT

AHEAD ON HY 12-SAUK CITY

Another photo shows an old Culver's restaurant.

LEA: As we grew, I think we all came to realize that people in our community were taking care of us.

In an old photo, co-founders Craig and Lea Culver and their daughter stand beside a vintage car with a sign on its side reading "Grand Marshall Craig & Lea Culver". Then Craig waves a Culver's flag beside Lea with the American flag as they march in the parade.

A young boy grins as he drinks a chocolate milkshake. People dine at tables in a Culver's.

LEA: And so, if they have a special cause, let's give back to them in a sense.

Craig and Lea Culver now stand with six women, all wearing purple t-shirts with "Relay for Life" on them. A boy sits in a stroller and a sign reads "THANK YOU TO Culver's Frozen Custard Butter Burgers FOR SPONSORING THE LUMINARY PROGRAM". Now a suited man offers an oversized cheque to an elderly woman as onlookers watch. The cheque is made out to the "Good Samaritan Food Pantry" for one thousand dollars.

LEA: It's not only important to give back but also to give forward. And when you give forward, you help not only take care of what's going on today in the world but you're helping to prepare for future years.

Lea interviews and text appears.

ON SCREEN TEXT: CULVER'S CO-FOUNDER

LEA: We started a scholarship program in 1993. One of our supplier partners came to us and said you know have you ever thought about giving scholarships as an incentive to your team members because you have amazing young people working here. And actually, this organization donated the first five hundred dollars to help get it started.

Shots show Culver's team members dressed in blue at work. A young woman serves guests, and more crew members work in the kitchen. Another woman serves guests at the drive-thru window. Team members chat and smile as they work together. Two crew members bump elbows. More team members chat with guests as they serve tables. A girl takes an order, and another speaks through a headset.

MARTY: I'm one of the readers for the scholarship program. We look at the things that some of these kids have accomplished and it's just out—it's just unbelievable!

Two suited older men sit at a counter in a Culver's kitchen. The man on the left has brown hair and speaks while the white-haired man wearing glasses sits on the right. Text appears.

ON SCREEN TEXT: MARTY

CUSTARD TOPPINGS SUPPLIER

MARTY: They're active in their community, they make good grades, they're just these really great kids and I don't remember working that hard when I was in high school!

A young team member wipes a countertop, and a young man holds the door as a family enters. A crew member scoops ice cream into a cup and a young woman brings a tray of food to a table.

LEA: We give scholarships because we believe in education and helping to provide the opportunity to continue an education.

Lea interviews.

A smiling team member passes a frozen custard cone to a little boy and another hands a table number to a guest.


LEA: It's important that everyone goes on to be the best person that they can be and if that's being a doctor or a lawyer or a nurse or a teacher, that's what our goal is, to just help them be who they want to be.

A young man passes an order through a drive-thru window, and another delivers an order to a vehicle outside. A young woman stands at a cash register taking orders as her team members work behind her.

LEA: To date we've awarded over four and a half million dollars to thousands of young team members. It's just such a good feeling to be part of that. We're helping a lot of great kids pursue their dreams.

An image shows Lea standing on a stage in front of a screen with the logo for the Culver's Foundation on a large screen behind her.

Young people stand in a line. Lea shakes hands with different young people as she hands them each an envelope.

LEA: There are a lot of organizations that we have supported through the foundation.

Now in Lea's interview.

LEA: The FFA, 4-H, the Chamber of Commerce.

A boy bottle feeds a calf, then rides in a tractor.

LEA: You're not just in the community to run a business but you're in the community to help it grow and support it.

An overhead view shows a calm town. An American flag waves from a streetlight and kids cross a street.

LEA: There's so many opportunities to be generous and be a part of something bigger than who we are.

Lea interviews.

LEA: Culver's isn't just for today. The community isn't just for today. How can we help take care of it so that it thrives in the future?

A variety of guests smile as they dine in Culver's. A mother and daughter tap frozen custard cups.

The music fades.

A blue handwritten logo appears on a white background.

ON SCREEN TEXT: Culver's®
Culver's commitment to people begins at home. We hire the best team members and teach them responsibility, leadership, teamwork and skills they can use in whatever career path they follow. To show our appreciation for their hard work and dedication, we have always believed in doing our part to help them grow as individuals through education.
One great way to show we care about the future of our team members is by offering scholarships through the Culver's Foundation—a tax-exempt, not-for-profit entity that helps team members of all ages with their educational goals. Through the generosity of franchisees, suppliers and friends of Culver's, we have been able to help team members take positive steps toward tomorrow for nearly 30 years.
The Culver's Foundation Scholarship Program began with a single $500 scholarship to one team member in 1993. It has since grown to recognize thousands of team members' commitment to excellence and academic achievement, supporting them financially as they work toward dreams of earning college or technical school degrees. Going forward, we will continue to grow the Culver's Foundation with an endowment that ensures these dreams of reaching educational goals live on.
The Culver's Foundation Scholarship Program has awarded over $6.8 million in scholarships to more than 4,300 team members since 1993.
2023 APPLICATION TIMELINE
APPLICATION PERIOD BEGINS: February 21, 2023
APPLICATION DUE DATE: March 29, 2023 at 3:00 PM CT
RECOMMENDER DUE DATE: April 3, 2023 at 3:00 PM CT
RECIPIENTS NOTIFIED: May 2023
If you have questions or would like additional information about Culver's Foundation Scholarship Program, please feel free to talk to your Culver's Team Manager or contact us directly. Good luck!
Nettie Stenberg, Culver Franchising System, LLC. 1240 Water Street Prairie du Sac, WI 53578 Phone: (608) 643-7980, Fax: (608) 644-2166 Email: scholarships@culvers.com.