Our Communities
Meet Kaitlyn
The Drive-Thru Valedictorian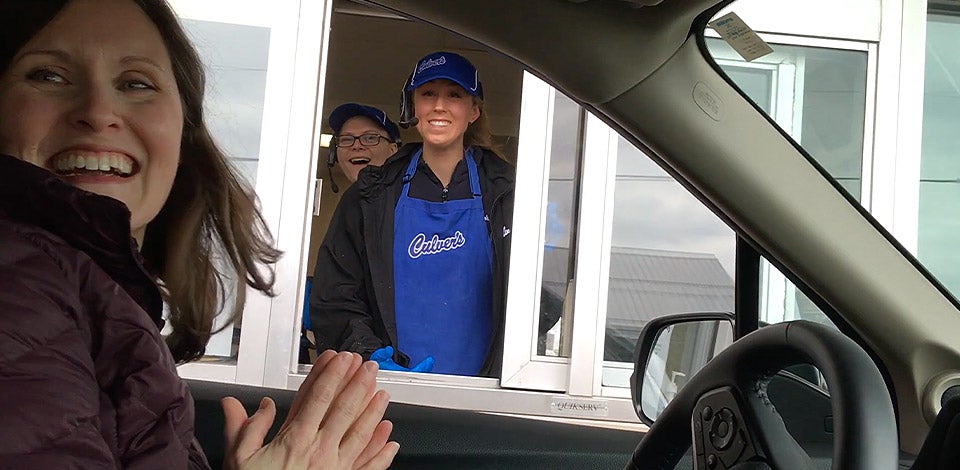 Back in March 2020 the world was just beginning to figure out how to adjust to daily life according to a global pandemic, and people quickly had to learn how to keep others safe. For Culver's restaurants, keeping one another safe meant moving to drive-thru service only.
During all of this, Michigan teenager and team member Kaitlyn was working the drive-thru window at the Culver's of Traverse City, Michigan when something amazing happened. Kaitlyn's principal came through the drive-thru to surprise Kaitlyn with the news that she was the class valedictorian at nearby Grand Traverse Academy.
"I'm going to Culver's right now"
It all started with Grand Traverse Academy Secondary Principal Michelle Floering deciding how best to tell Kaitlyn the great news. Principal Floering originally tried calling Kaitlyn at home but decided the news needed to be more special and personal.
"When her mom answered, she told me that Kaitlyn was working at Culver's and would not be home until late," Principal Floering said. That's when she was inspired to surprise her at work in the drive-thru.
"I said to her mom, 'I didn't know she worked there­–I LOVE Culver's! I'm going to Culver's right now. You don't think she would mind, do you?'"
Surprise Like No Other
Meanwhile at the Culver's of Traverse City, Michigan, Kaitlyn was working at the drive-thru when Principal Floering came through to let her know that she was the 2020 class valedictorian. In the video of the surprise, it's obvious how truly delighted Kaitlyn was at the news.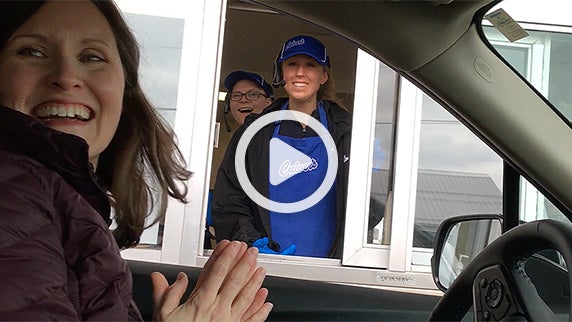 "Although I have seen my friends come through the drive-thru, I never expected my principal to come and bless me with this surprise," Kaitlyn told us. "It was an amazing experience, and it was so sweet of her to take the time to drive up and tell me."
The video of the surprise (taken by Principal Floering's son) was shared all over social media and covered in countless news articles. The surprise even made it on John Krasinski's wildly popular YouTube series SomeGoodNews, which started at the beginning of the pandemic to share feel-good news happening in the world. Both Principal Floering and Kaitlyn were shocked at how fast the video started trending.
"I was so surprised and amazed that this was viewed so many times," Principal Floering said. "I wanted so badly for our seniors to have memories for a lifetime, and for Kaitlyn, this certainly will be!"
"I never really thought that this video would get as much attention as it did. The reception was so positive," Kaitlyn told us. "I tried my best to see the good things that have happened through all of this: becoming valedictorian, getting to work more and still having a graduation."
A Unique Celebration
For schools and high school seniors all across the country, the end of the year is full of celebration, parties and events to cap off almost two decades of education. In 2020, though, schools still wanted to celebrate their graduating seniors but had to do things a little differently.
At Grand Traverse Academy, the usual ceremony was transformed into an outdoor event with students and their families in their own cars in the school's parking lot, sound hooked up to each car and a big projector on the side of the building. Each student was still able to walk across the stage to pick up their diploma, with the school taking extra precautions to keep the event safe like maintaining a safe distance and sealing each diploma.
While Kaitlyn's speech was prerecorded, it was still a memorable experience.
"I still had the opportunity to walk and hear my speech," Kaitlyn said. "It was actually very relaxing and stress-free!"
The school even found a fun way to make sure the graduating seniors knew their classmates and families were cheering them on: Applause for each student was in the form of car horn honking.
Bright Future Ahead
What's next for Kaitlyn? She told us that her plans are to attend Northern Michigan University on a full tuition scholarship with a major in biochemistry and a minor in Spanish.
"I am excited for this next chapter in my life!" Kaitlyn told us.
Do you have a fun or unique story that happened at Culver's? Let us know about it by mentioning @Culvers or using #Culvers on Facebook, Twitter or Instagram.