Our Communities
True Blue Love: Team Members Get Engaged at Culver's
Culver's of Greer, South Carolina
Upon graduating from college in Illinois, Culver's team member Katlyn left her job at Culver's to accept an internship in South Carolina.
It was here in South Carolina that Katlyn experienced two life-changing events. First, she met and fell in love with Patrick. Second, she realized how much she missed working at Culver's. Patrick encouraged Katlyn to follow her dream, and the couple moved so Katlyn could begin her career as a manager at Culver's of Greer, South Carolina. Katlyn's enthusiasm even prompted Patrick to take on a part-time job at the restaurant.
"I will always remember and cherish that moment." - Katlyn
In May 2017, Katlyn experienced an extra special day at work. Her general manager, Kim, told Katlyn that she wanted to show her a few things outside that needed addressing. Kim pointed to the restaurant's marquee sign and asked Katlyn to check that she hadn't made any spelling errors. The sign read, "Question of the Day," then a special message flashed across the sign: "Katlyn, will you marry me?"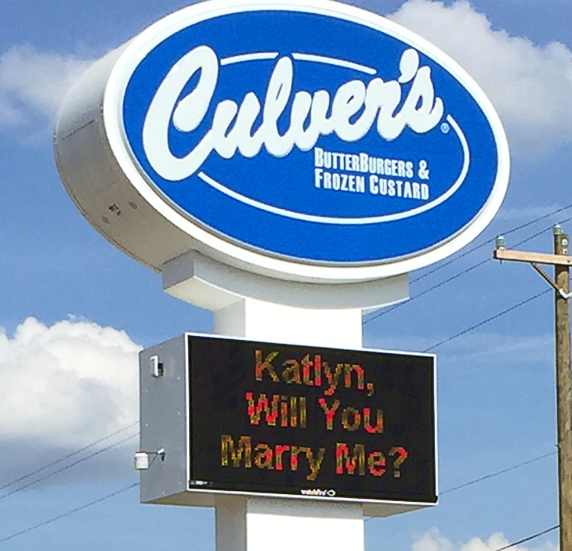 Katlyn turned around to see Patrick walking toward her in his Culver's apron, carrying a Value Basket. Inside the basket was an engagement ring, and Patrick asked, "Would you like marriage, with a side of love?"
Katlyn said yes, and the couple celebrated with a Banana Split. Katlyn said, "Considering my love for Patrick and Culver's, I can't think of a better way to get engaged!"
Have you shared a special moment at Culver's? Tell us about it on Facebook or share a photo with us on Instagram or Twitter using #culvers.