Our Communities
Turning Scoops Into Smiles
Celebrating Military Kid Appreciation Week with Fresh Frozen Custard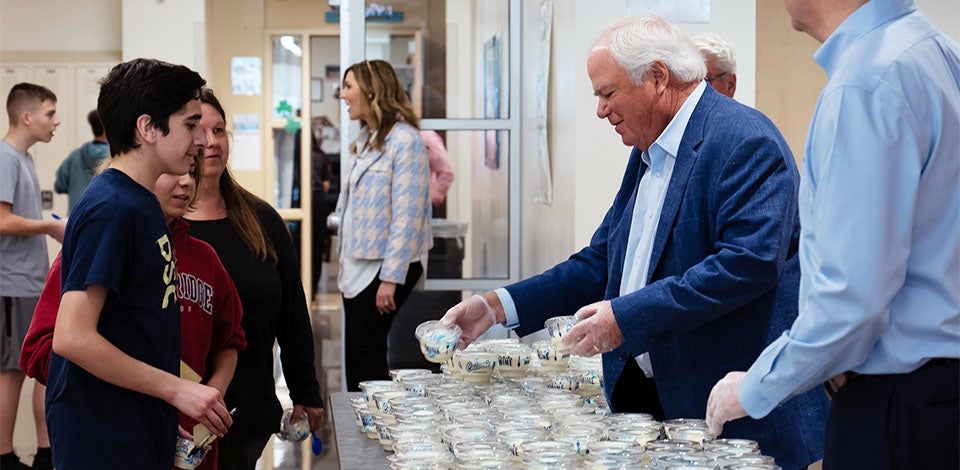 Between navigating yet another first day at a new school or feeling overwhelmed with emotion as your parent prepares to spend some time away on tour, being a child of a military service member is a unique, formative experience unlike any other.
These feelings are familiar to Shaun Morris, the son of a military service member. Now the owner-operator of two Culver's locations in Columbia, Missouri, Shaun's family ties to the military inspired him to partner with the United Service Organization (USO) to sponsor events to benefit local fellow "military kids." These events would come to be known as Military Kid Appreciation Week.
The events were designed to bring levity to the children's day – a chance for them to be relieved of the anxiety that can come with being the child of a military service member, if only for just a few moments.
Military kids are accustomed to frequent goodbyes, which can make finding friends difficult. These events provide a space for the children to come together and form connections with their new peers. "I always try to make the kids smile because I know they deal with a lot of stress," Shaun explained.
As a franchisee for several years, Shaun is no stranger to the happiness Fresh Frozen Custard can bring to people. That's why he chose to pass dishes of frozen custard out to the children who attended the events throughout the years. To date, Shaun has served 7,000+ scoops the children of 11 schools.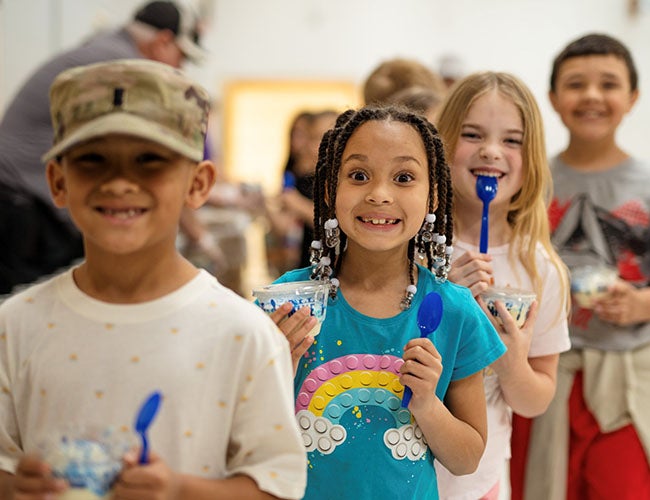 "Our focus was making sure we do it a little better each time," Shaun explained. So, as this year's Military Kid Appreciation Week approached, he decided to invite Craig Culver, co-founder of Culver's.
Craig and a few other members of the Culver's team accepted Shaun's invitation and made the trip to Columbia, Missouri to help take part in the event. The first stop for the day was one of the Culver's locations that Shaun and his wife Olga own. The team met with the crew members of the location, many of whom are military kids themselves, and helped to pack up over 1,000 dishes of Vanilla Fresh Frozen Custard.
They then took off for Waynesville Middle School and Waynesville Sixth Grade Center. Located on the Fort Leonard military base, around 73% of the student body in this district is made up of children from military families.
The remaining 27% are considered military support personnel by the USO – because of how welcoming they are when new military kids move into the district. Making a new friend only to have them move away in a few years is never easy at a young age, which is why Military Kid Appreciation Week also strives to recognize military kids' peers too.
Once they arrived, Craig and the Culver's team assisted in serving dishes of Fresh Frozen Custard to the children. According to Shaun, each of the dishes that were served was met with a smile and a thank you.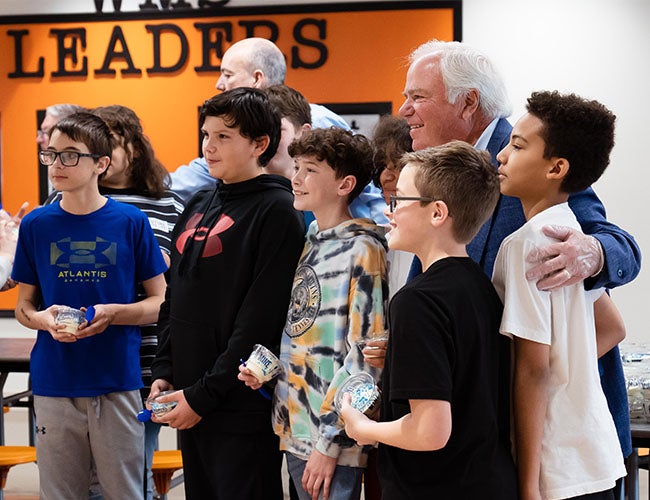 The day was a success, with around 1,500 total dishes of Fresh Frozen Custard served at the schools. "The best part of the week was seeing Craig handing out custard to all the kids," Shaun explained. "Seeing the joy that Culver's gives to people is why I still love my job 33 years later."
Learn more about what Culver's' is doing to give back in your community.