Culver's Cravings
Meet Rowen
Culver's Favorite Author
Some may feel like getting their kids interested in reading and writing is a daunting task – but for others, it's simple: just take them to their favorite restaurant.
For a 9-year-old named Rowen, it was the first bite of a warm ButterBurger, the creaminess of her favorite Fresh Frozen Custard and the crunch of crispy cheese curds that lead her to write a book about her family's go-to spot: Culver's.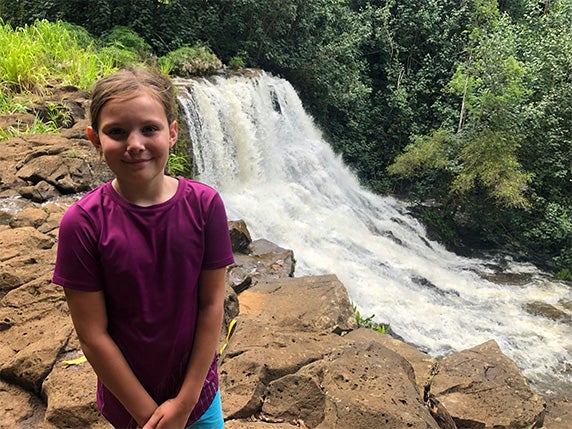 Rowen's descriptive words make readers wish they were biting into a fresh ButterBurger themselves. Her love of Culver's and her father's Wisconsin roots lead her to write her thoughts on paper and share with others – including former Culver's CEO Joe Koss.
Attention Mr. Joe Koss
The 9-year-old packaged up her 18-page masterpiece and sent it directly to Koss, who instantly knew the book was something special. The Culver's team wrote a letter back so we could make sure Rowen and her book got the recognition they deserved!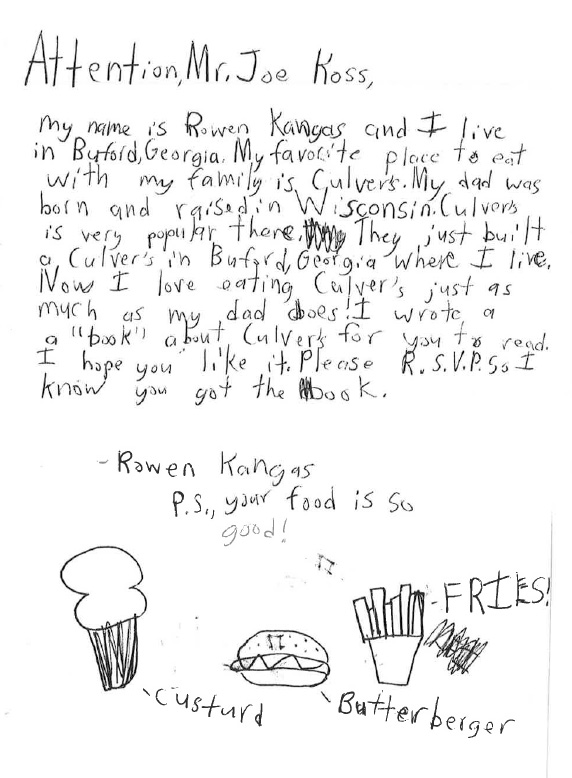 Culver's is Amazing
"Culver's is amazing," reads one of the first pages in Rowen's book. Her father was born and raised in Wisconsin, and she shares early on in her writing that her father never thought there would be a Culver's in Buford, Georgia for their family to enjoy – but soon enough, one opened nearby.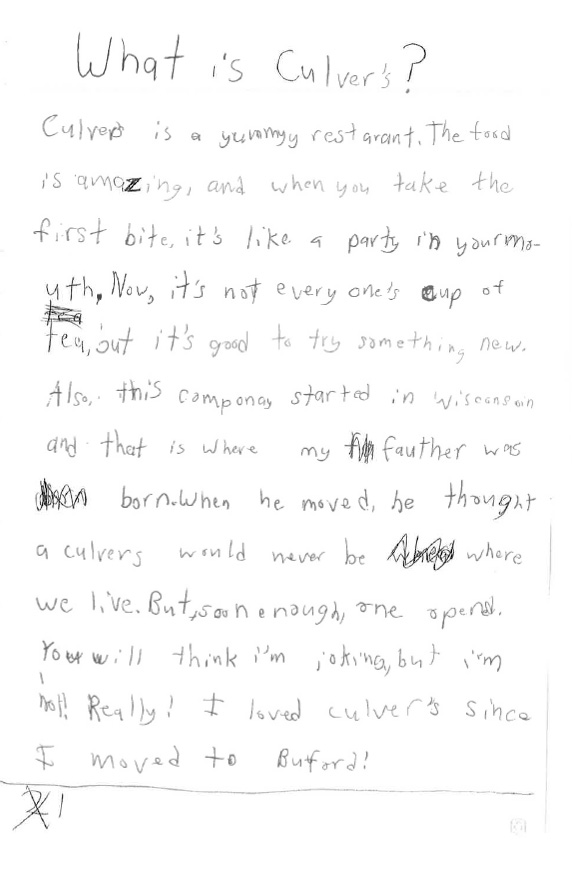 Rowen wraps up her book by thanking the farmers for making Culver's the restaurant it is today and inviting her readers to tell their friends about her favorite restaurant.
"The crops that farmers grow helped Culver's be where it is now. I am so thankful for them because they don't just help with Culver's," Rowen wrote, "They help us to make us live."
Rowen becomes an author
After the team got their hands on Rowen's writing, there was no question as to whether she deserved some major Culver's swag. Rowen's father said it was just like Christmas morning when he told her she got a package in the mail from Culver's.
"Rowen's eyes lit up and was ecstatic when I read the shipping label," her father said. "My wife and I appreciate Culver's taking the time to encourage her writing abilities."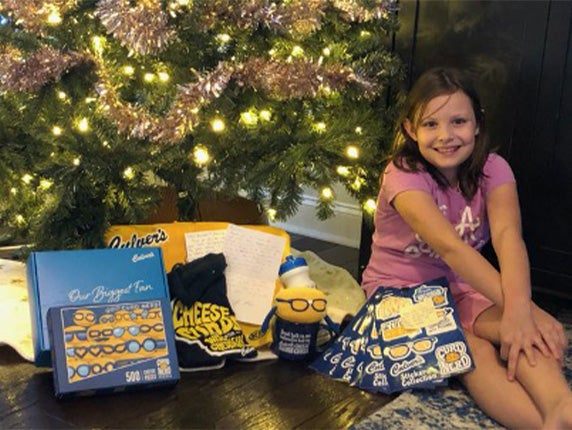 The team knew Rowen's book needed to be printed to share with other like-minded Culver's fans, so we took action to make her vision come to life in a 10-page book with illustrations to accompany her writing. The book copies were distributed throughout Culver's, to Rowen's friends and family, and to local libraries, but the team didn't stop there. Animations of her book were created to help put her ideas in motion, with Rowen herself as the narrator!
Keep writing!
What's next for Rowen? After becoming a published author at the age of nine, she's got a bright future ahead!
Have a story like Rowen's you want us to hear? Share it with us on social media by mentioning @Culvers or using #Culvers on Facebook, Twitter or Instagram.