Our Communities
Bride and Groom Celebrate With Fresh Frozen Custard Dessert Bar
Celebrating farmers and Fresh Frozen Custard go hand in hand at Culver's. This past year, we had a chance to be a part of the wedding of two dairy farmers with a unique spin on traditional wedding desserts.
Instead of a cake, this couple, Katy and Cory B., knew they wanted something a bit more unique, something that celebrated them. Since the couple loves Culver's, they offered up a Fresh Frozen Custard bar with lots of different mix-ins and toppings to choose from. Their guests loved it.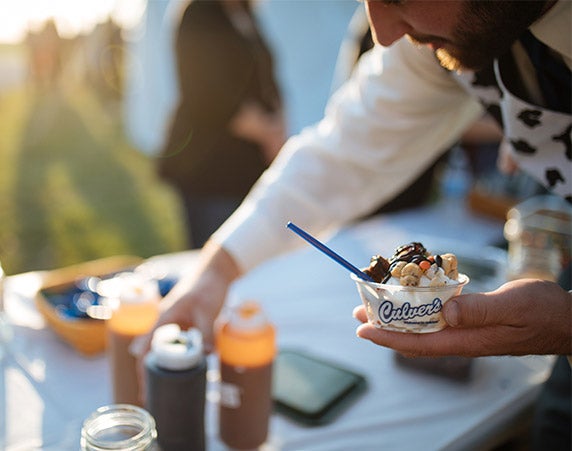 Having a frozen custard bar at their wedding was also a nod to our support of farmers and agriculture and their connection to it as dairy farmers at Sunburst Dairy in Belleville, Wisconsin.
"It's very refreshing to see companies like Culver's​ ​that vocally support farmers and trust that we are the experts in the field," Katy explained. "My husband was a Wisconsin state FFA officer, so the fact that Culver's gives back to the FFA holds an extra special place in his heart."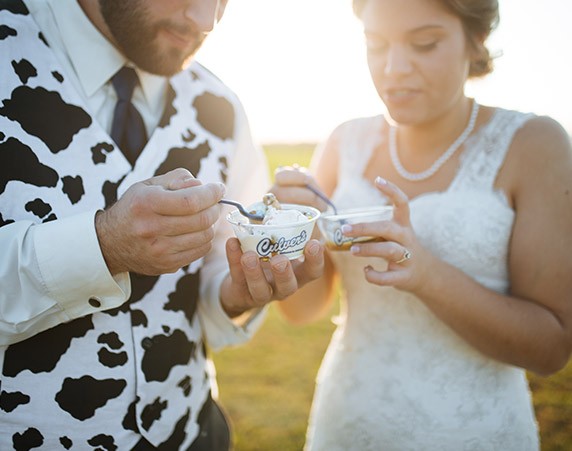 And if you are wondering if there is a story behind the cow vest: "His mom made it for him," Katy said. "We love our cows."
Did you serve Culver's at your wedding? Let us know about it on Facebook or share a photo on Instagram and Twitter using #culvers.
Photo credit: Copper Key Visuals