Our Communities
Day Made
What It's Like to Go to Culver's for the First Time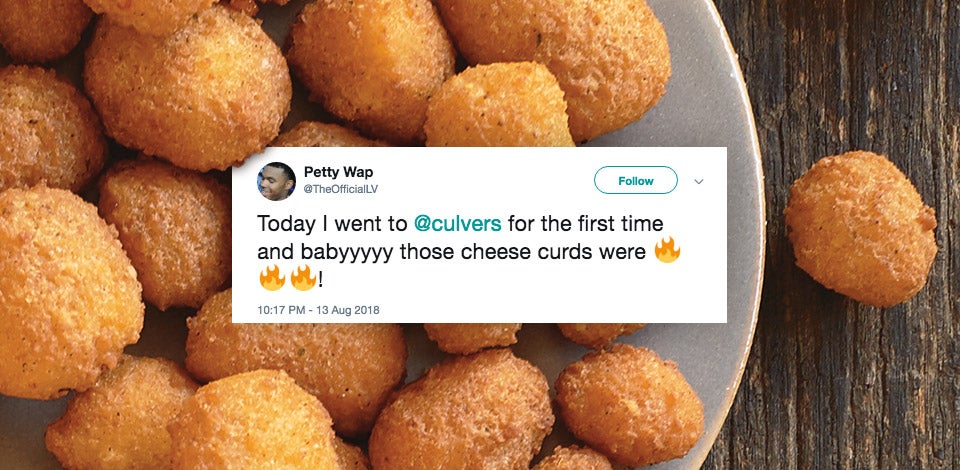 Do you remember your first time at Culver's? Whether it was 30 years ago or yesterday, that first visit will be near and dear to you.
Every day, people all over the United States are experiencing their first bite of deliciousness and spreading the word. Check out some of our favorite "first" reactions below.
When you first hear about Culver's so you have to try it out
@culvers We just moved from Boston to AZ (Surprise) and tried you for the first time! Outstanding! You are my new go-to Burger place!

— Frank McSorley (@frankmcs) June 7, 2018
It can be a little overwhelming, so you might have to plan another trip
Visiting my family and had @culvers for the first time. It is sooooo good! My only regret was not ordering a larger concrete! pic.twitter.com/8YVIzFRNdb

— Lauren Mack (@lmack) May 12, 2018
But now it's all you can think about
Had Culvers for the first time yesterday and that's all I can think about now 🤤

— Katie🍓 (@champagnepapi0) June 20, 2018
We get it, it can be a life-changing experience
Hello Culver's custard has changed my life 💕🍦

— Melissa Serrano (@melissaserrrano) September 1, 2017
Like, really life changing
Just had @culvers for the first time... It was a religious experience.

— Kody👑 (@kody_king1) June 16, 2018
It was probably because of the food
I went to Culver's today for the first time and had the culver's bacon deluxe burger, french fries and sweet tea it was good 😋👌

— Michael Butts (@Tooreal______) June 1, 2018
Because you tried something new
Today I went to @culvers for the first time and babyyyyy those cheese curds were 🔥🔥🔥!

— Petty Wap (@TheOfficialLV) August 14, 2018
But it could have been the people, too
Thank you @culvers at Cheyenne Wyoming for the wonderful meal, personable service and terrific staff. We loved our first time experience at Culvers. We'll be back ! pic.twitter.com/llZDwyCky3

— The Real Colin (@RealBreezyColin) May 20, 2018
Regardless, now you're in love
@culvers I tried your butter burger for the first time in my entire 21 years of life on Friday & I'm in LOVE. 😍🍔🔥

— Brittany Edmundson (@BrittyCakes12) February 25, 2018
And you totally get why everyone has been talking about it
After hanging out at the beach, we ate at @culvers for the first time tonight and I now understand the hype from their loyal customers. pic.twitter.com/sGC4mn6ddf

— james ross (@jamesaross) July 28, 2018
You found a place that gets you and your family
While you were there, you learned a few things
Soooo uhhhh I just had @culvers for the first time ever just now and I'm in love. Frozen custard is better than ice cream. Also frozen yogurt is gross. pic.twitter.com/nzcZS5COju

— Supermarket Addie 🦁 (@myimmaturity) July 19, 2018
Supported a cause
Like the Thank You Farmers Project.
First time at Culver's! Happy to support a company that supports FFA so much pic.twitter.com/BqaQTarB98

— Samantha (@SamDeeWard) August 26, 2017
And started new traditions
Took my boyfriend to @culvers for the first time and he absolutely loved it. We will definitely be back for more dates there.

— Megan (@harleym_312) June 30, 2018
Even got inspired to write a haiku
First time at @culvers
Any place that serves cheese curds
Is alright by me. #HaikuForYou #Haiku #Culvers

— Tony Carter (@tonyscarter) May 12, 2018
And when you're far from home, that first time back is a little emotional
You know when you think of something and it's just so awesome and wonderful, you can't help but smile to yourself?

Yeah, I just remembered that in 4 hours, I get to eat @culvers for the first time in 6 months and it triggered all the feels.

All 🧀 The 🍔 Feels🍦

— Leah Nass (@nasslj94) June 29, 2018
But then you're there with the ones you love and everything in the world is right again
Do you have a memorable first visit at Culver's? Share it with us on Facebook or share a photo on Instagram and Twitter using #culvers.