Our Communities
Kurtis Culver: Get to Know The Guest with a Familiar Name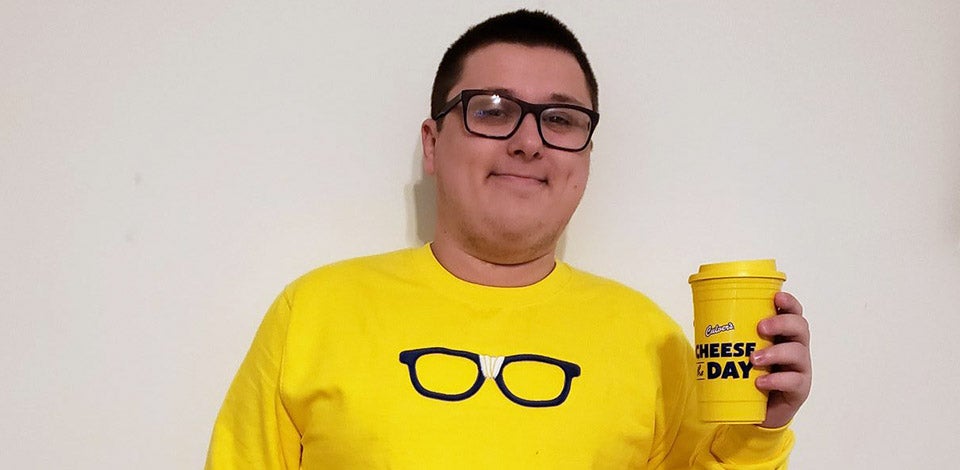 Picture this: Your name is Kurtis Culver and you're enjoying a meal at your local Culver's restaurant. You already know how special it is that you share the same last name with Culver's and you look up from your meal, noticing a sign for a Curdis sweepstakes.
You now discover that not only do you have the same last name as the restaurant you are eating in, but your first name sounds exactly like Culver's cheese curd mascot Curdis the Curd Nerd.
Mind blown.
I've waited my whole life for this moment pic.twitter.com/jmyYJbnuMe

— Kurtis Culver (@CulverKurtis) October 7, 2019
"The first thing I did was text my friends about it in a group chat," recalled the one and only Kurtis Culver. "Then I posted about it on Twitter."
Kurtis, who lives in Missouri, shares a special bond with Culver's through the hilarious coincidence of the combination of his first and last name. When he discovered that his first name sounds exactly like our cheese curd mascot––and after he texted his friends––he had to let his local restaurant, the Culver's of Eureka, MO, know.
"Since I was eating alone, I wanted to share it with someone and see how they reacted. So, I went up to the cashier and showed them my driver's license, thinking it'd be a funny coincidence," Kurtis told us.
The restaurant loved it so much they took his photo with a Curdis plush toy and even offered him a job.
The Culvers I was just at gave me my own little Curdis buddy! I love him :D pic.twitter.com/OMPz4u2uFj

— Kurtis Culver (@CulverKurtis) October 7, 2019
"I love puns so the fact it coincided with my name gave me a kick," Kurtis said.
Throughout his life, people have asked if his family owns Culver's or if he is related to the Craig Culver or the Culver family. Even though Kurtis is not related, he still gets asked about his name to this day. "The most common question is if I can get them free frozen custard."
There is a different but very important question that he may not get asked and that we needed to know the answer to. If he could have a lifetime supply of Cheese Curds or Fresh Frozen Custard, which would he choose?
"Definitely custard!"
Do you have an unusual or funny Culver's story? Share it with us by tagging Culver's on Facebook, Twitter or Instagram or by using #culvers.