Our Communities
Meet Baby Krew
Mom-to-Be Tracks Pregnancy with Culver's Food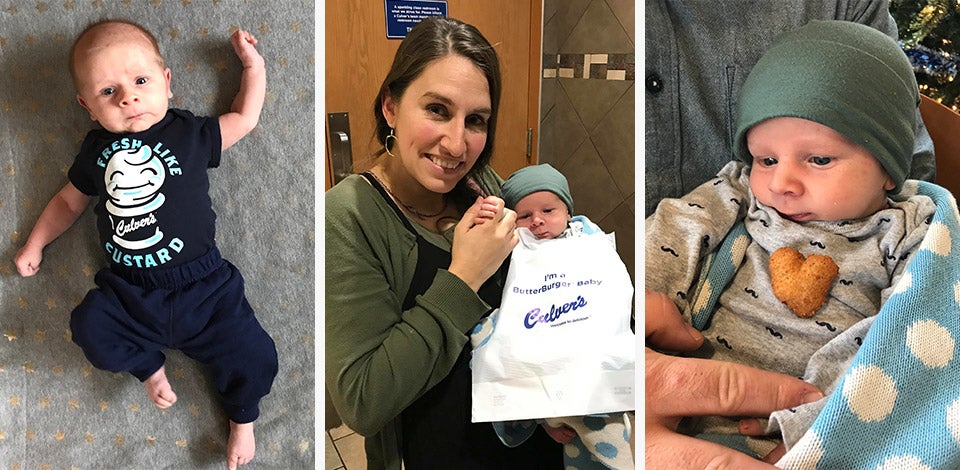 We're lucky enough to have loyal guests of all ages, from Idaho to Georgia. Some have just had their first visit to Culver's, while others have been visiting their whole lives. A few even share their loyalty in super creative ways. For instance, one guest tracked the progress of her pregnancy with food from Culver's.
Instagram posts from Clara Caeton Litteral caught our eye as she compared the size of her growing baby to popular Culver's menu items in the months leading up to her due date.
The inventive idea came to be when Clara's pregnancy tracking app informed her how many weeks along she was and the size of her baby while she was at Culver's. "Every week, my app would tell me, 'Your baby is this many inches long,' then compare it to the size of a vegetable, which I thought was a little boring," explained Clara. Instead, Clara shared photos comparing her baby to Culver's menu items, starting with a single Wisconsin Cheese Curd at 10 weeks and moving along to an Onion Ring, Chicken Tender and even a stack of cones! In fact, Clara had even begun carrying a measuring tape in her purse, so she could measure different items to ensure they were the same size as her growing baby.
Clara and her friends met at Culver's regularly (pregnancy cravings meant she was always hungry for a Culver's Deluxe!), and one expecting friend even made a guest appearance in one of her updates.
With all her visits to Culver's for monthly pregnancy updates, Clara got to know the restaurant's team members well. When Clara's family prepared to move to Ohio just before the arrival of their baby, Clara and team member Noelle shared a photo and a few tears. "That photo was special in a sentimental way," said Clara.
The spirit Clara displayed was that of a true Culver's devotee, so we dreamed up a one-of-a-kind gift we could give to match her passion for all things Culver's, a personalized mobile for the baby's crib. There will be many sweet dreams in this little baby's future and we wanted to make sure they were filled with Fresh Frozen Custard.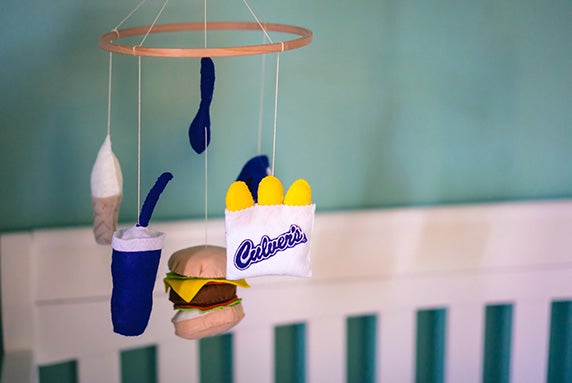 On December 6, 2018, baby Krew was born to Clara and her husband. He has five older siblings who were so excited to welcome him to the family. And we'd like to welcome him to our True Blue "Krew!"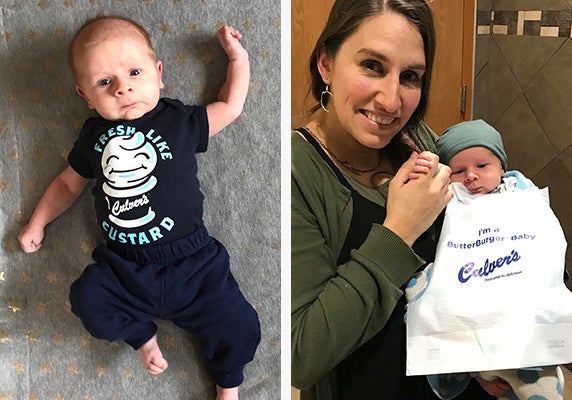 Have you shared any special memories with friends and family at Culver's? If so, tell us about it on Facebook, or share a photo with us on Twitter or Instagram using #culvers.