FFA & Culver's
A Career where our heart for agriculture is the root of all we do

Become Part of the True Blue Crew™
We're passionate about finding new ways to empower active FFA members to consider Culver's as a place for them to work to earn scholarships, educational opportunities and receive mentorship.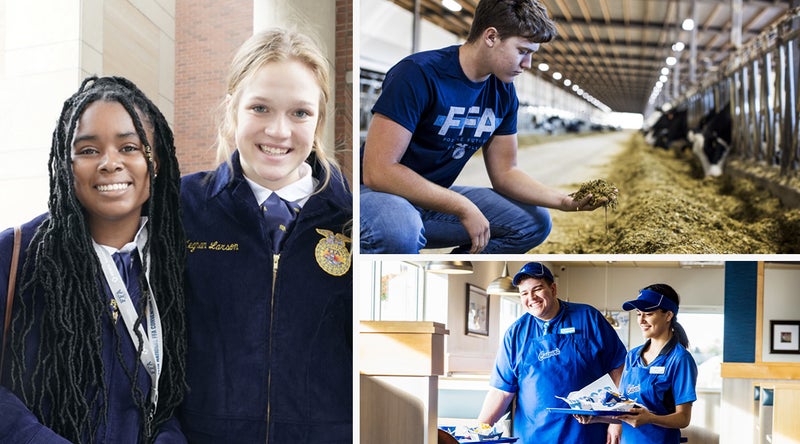 Grow With Us
When you join the True Blue Crew™, you'll become a part of a team that shares the same love for agriculture as you. We strive to equip our Team Members with career readiness skills to help prepare them for their future jobs, at Culver's and beyond. We're proud to support the communities our restaurants serve through our involvement with local FFA chapters.
For active FFA members, a job in a local restaurant is considered a placement project in a supervised agricultural experience (SAE) program . It's one of the many things that makes Culver's a perfect fit for FFA members.
Our crew members bring our hometown hospitality to life and make sure every meal we serve is a masterpiece each and every day. Whether you choose to work in the front of house, back of house or as a maintenance technician/porter, your skills and leadership will serve as a critical part of our team and keep our restaurants at the highest standards.
Our managers oversee it all, ensuring every True Blue Crew™ member is moving in sync and every guest leaves happy. They create shift schedules, empower team members to grow their skillsets and maintain a positive attitude throughout the restaurant. If you're a natural leader who can rally a team to be its best, we'd love to have you behind our counter.
Your True Blue Journey Starts Here
Getting started is easy! Simply search for restaurants near you, choose up to three locations, and provide your information so we can get in touch about your position(s) of interest.
---
Where Your Work Matters
We're proud to support the FFA and the next generation of agricultural leaders. Your work makes a difference – at Culver's and beyond.