Our Communities
Restaurant Helps Firefighters After Explosion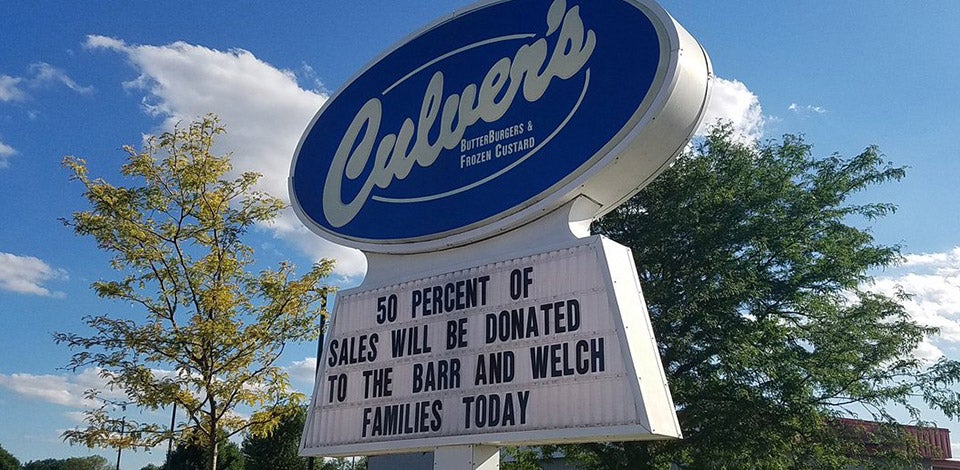 Culver's of Sun Prairie, Wisconsin – W Main St.
In July 2018, a gas leak caused an explosion in downtown Sun Prairie, Wisconsin. The explosion destroyed a number of buildings in the city. Firefighters Cory Barr and Ryan Welch were on the scene, and Cory was killed in the explosion while Ryan was seriously injured.
Seeing the way this tragic event had rocked his community, Culver's of Sun Prairie franchisee Duane Sprecher knew he had to help. "We strive to make a difference in the community we share with so many others," he explained.
On July 17, Duane's restaurant held a fundraiser, donating 50% of the day's total sales to the Barr and Welch families. Duane began planning for the day, stocking up on extra items and reaching out to nearby Culver's restaurants to see if they could "borrow" team members to help serve food. His preparation paid off.
Sun Prairie firefighters are stopping by Culvers for a bite to eat. Proceeds go towards helping the Barr & Welch families. Fundraiser lasts until midnight! pic.twitter.com/mTl3MKCdj3

— McKenna (@McKennaHCollins) July 17, 2018
The community rallied behind the fundraiser. On the day of the event, the line of cars heading into the Culver's parking lot was so long that local police released a traffic advisory for the area around the restaurant. Even Culver's cofounder Craig Culver stopped by to volunteer for the event.
To say the fundraiser was a success is an understatement. The restaurant experienced a record-breaking sales day, something that couldn't have happened without the support of its guests. "We didn't just barely break the record, we kind of shattered it," explained Duane.
This community is amazing... I'm so glad to be a part of it. @culvers #SunPrairieStrong #sunprairie pic.twitter.com/8c8om9VPFi

— Justin Kuehn (@Justin_M_F_K) July 18, 2018
Along with money collected from donation jars and $1,200 of the restaurant's own money, the donations for the Barr and Welch families totaled $21,642.83.
"We're proud to call Sun Prairie home," said Duane. "Doing our part to help just feels right."
We at Culver's are keeping the Barr and Welch families in our thoughts and hope the donations can be of help to them in the wake of this tragedy.
Have you attended a fundraiser at your local Culver's restaurant? Tell us about it on Facebook, or share a photo with us on Twitter or Instagram using #culvers.